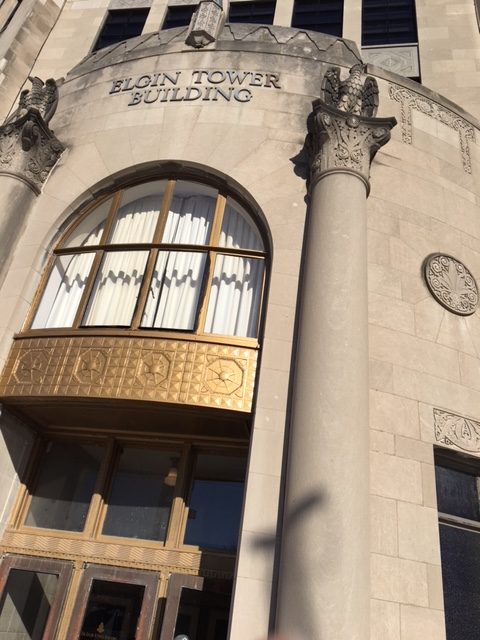 The Elgin Tower, a former Art Deco-style office building in Elgin, Illinois, has been restored and remodeled as luxury apartments.
The 15-story edifice originally opened as a bank in 1929 and now holds 45 one and two-bedroom apartments. Its unique design — tall rectangle flanked by two triangles atop a broader base — ensures no two apartments share the same layout.
Capstone Development bought the iconic building in 2016 after it had closed down in 2014 due to disrepair and began interior demolition and repairs soon after the purchase. However, with the building on the National Registry of Historic Places (NRHP), construction work was delayed until design approval of the 272 replacement windows.
"We did everything we could to maintain the charm and character of the original building," says Bill Luchini, president of Capstone.
The window openings varied, requiring five slightly different window heights to be manufactured. The windows manufacturer and glazing contractor initially recommended using a receptor system for its flexibility to slide the windows into place but the NRHP believed that this system would create bulky sight lines.
They then proposed using an interior snap trim that met both the aesthetic and installation standards set by the NRHP and the National Park Service.
"It was a challenge to find historic replica windows that met all the criteria," said Craig McGregor, Winco sales representative. "But the installation was even trickier. We needed a glazier with a special skill set like Krull, experts in challenging rehabs."
Twenty three single windows were installed per floor over the course of 7 weeks and for a period of time, there were no functioning elevators, which meant tradesmen were carrying the heavy, oversized windows up several flights of tight-fitting stairs.
The opening were cleared and cleaned to ensure a plumb line so the windows were evenly aligned both inside and out. Each exterior window was hand finished for a perfect fit. Fixed lites applied to the interior to replicate the old-style look from the outside, keeping the building historically accurate.