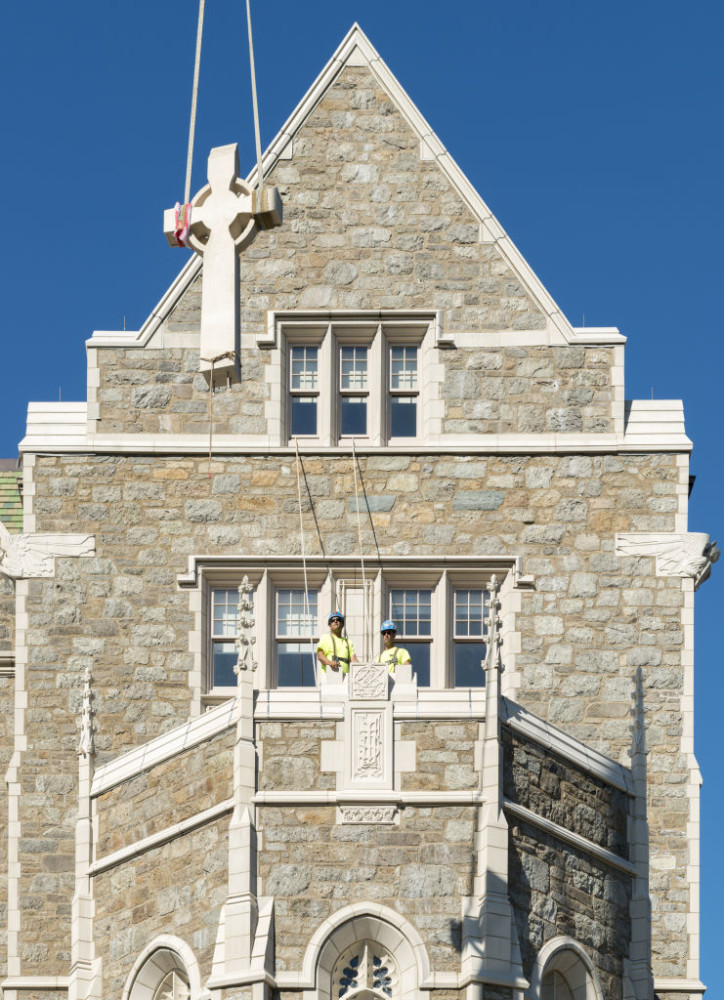 Shawmut Design and Construction blended the best of old-world building practices with advanced technology to restore the second-oldest building on Boston College's campus.
The 10,683-m2 (115,000-sf), two-year renovation of 98-year-old St. Mary's Hall—located in the heart of the campus on historic Linden Lane—incorporated new construction and careful historic preservation methods, combined with the use of the latest technology and building information modeling (BIM) expertise.
One of Boston College's original buildings, St. Mary's Hall required both interior and exterior renovations, as well as structural improvements. Shawmut's interior work included improvements to the historic Jesuit living quarters and St. Mary's Chapel, as well as the creation of new offices, conference spaces, and an underground parking garage. The team also removed and replaced more than 15,000 cast-stone elements, including sculptures and custom components. To refresh the building's exterior, 300 new windows and tile roofing were installed.
In order to ensure a seamless and efficient renovation, BIM software was employed by team members to coordinate in real-time both at the office and in the field. The technology enabled the team to piece together multiple digital models to ensure they mapped out the most effective track possible. Shawmut also used programs allowing a visualization of future conditions to resolve potential issues, while simultaneously sending the updates and information to off-site team members.
The building serves as the principal residence for the college's Jesuit community, and now provides space for the Woods College of Advancing Studies, as well as the communication and computer science departments. (These additions are all housed in the new south wing, with no public access to the Jesuits' residential quarters.)
The interior is also brighter as a result of stone recasting, window glass and light fixture replacements, and wood restoration. Other changes to the facility include:
number of living quarters was reduced to 30 (with three additional rooms for guests), and each unit now has a bathroom;
reception area was moved across from the main lobby;
entire building is now air-conditioned;
a chapel for the Jesuit residence was added;
courtyard area in the building's rear was restored and reconfigured; and
a kitchenette was added to a refurbished Jesuit living room/common area.