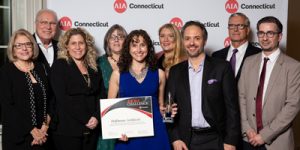 Hoffmann Architects, an architecture and engineering firm specializing in the rehabilitation of building exteriors, received the Justice, Equity, Diversity & Inclusion (JEDI) award from the Connecticut Chapter of the American Institute of Architects (AIA Connecticut) at the annual awards gala on Nov. 16 at Aria in Prospect, Connecticut.
Calabro and Angela Cahill, AIA, president of AIA Connecticut, recognized Hoffmann Architects for the firm's ambitious initiatives, including:
Established a diversity advancement scholarship with the Connecticut Architecture Foundation for students of color pursuing architecture and engineering careers;
Initiated a student loan repayment program for employees to assist in paying down student debt, which disproportionately impacts people of color;
Conducted an inclusion and belonging survey to establish a baseline on employees' feelings about the workplace culture;
Created a dynamic, interactive internal diversity and inclusion blog;
Started a D&I book club for staff to share conversation about challenging topics;
Connected with ACE mentor program affiliates to provide volunteer mentorship opportunities for staff;
Participated regularly in online diversity challenges from the United Way and other organizations, and;
Provided a JEDI education training session with an outside consultant for firm leadership and will host a session for all employees in January.
Hoffmann Architects' Diversity & Inclusion Committee includes Alison Hoffmann, communications manager and committee chair; Russell Sanders, AIA, president of Hoffmann Architects; Cindy Lattanzio, human resources manager; Donna Rehm-McCabe, controller; and five members of the firm's technical staff, Guilherme Pinho, Kelsey Greenleaf, Nupur Khadilkar, Rob Fraguada, and Merlyn Rivera. Also in attendance at the Gala were John Hoffmann, FAIA, executive chairman, and Avi Kamrat, CFO.