Sri Lankan community library
The second prize of $100,000 was awarded to the Sri Lankan duo of Milinda Pathiraja and Ganga Ratnayake of Robust Architecture Workshop. After the 25-year Sri Lankan civil war ended in 2009, thousands of soldiers were left discharged with no future objective. Designers Pathiraja and Ratnayake saw an opportunity to create a motivated workforce for these soldiers by offering educational training programs on building techniques through the construction of a community library. The library is stationed outside the city of Colombo in the rural town of Ambepussa, and it creates an environment for those who were previously unable to study—mainly women and children—to have a safe place to learn.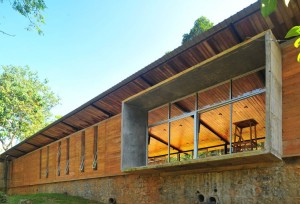 The building is composed of environmentally conscious materials like packed earth, bamboo, repurposed steel from factories, and recycled wooden railway ties. The packed earth for the wall construction is even sourced from another site currently under excavation for a playground. Given that the design contains so many reused materials, it reduces the overall cost of construction. Designers are also saving money by harvesting natural light, through the use of skylights, a multitude of windows, and a series of reading platforms that allow a generous amount of light into the building. The designers have included wind scoops on the roof to help facilitate stacked ventilation, in addition to the overall design utilizing cross-ventilation techniques. The building itself is situated around existing trees, so the environmental landscape is kept intact.
This project is as much focused on the people it serves as the environment it is built upon. It is the hope the soldiers will become educated and adopt construction as a profession to assist with their re-assimilation into society.
Flood protection for Manhattan
The third prize, and winner of $50,000, was the United States Dryline project spearheaded by BIG— Bjarke Ingels Group and One Architecture in conjunction with the city of New York. After the devastating 2012 Hurricane Sandy, part of New York was left in shambles. The city was arguably unprepared for a storm of that size and suffered massive flooding and destruction. Now they have developed a plan to better prepare the city, should another storm of Sandy's magnitude strike the island of Manhattan again.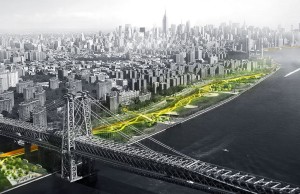 Dryline is not only a restorative project, but also a future flood-preventative infastructure. It proposes a protective ribbon to span 16 km (10 mi) of the southern Manhattan shoreline with raised berms, batteries, and benches to act as flood control. The area that currently sits on the coastline of lower Manhattan consists of derelict bridges, parking lots, and roadways. The Dryline plans to convert these spaces into community amenities, such as pools, markets, parks, and other urban community areas. The planning process of the project was intensive, involving more than 25 disaster preparedness groups, residents, and community teams. Residents were even permitted to design their own waterfronts using drawings and interactive models.
This massive preventative project has already gained approval from the city and with $335 million in funding from the U.S. Department of Housing & Urban Development (HUD) in June 2014.
Submissions for the next Holcim Awards competition will open mid 2016 for its next three year cycle.