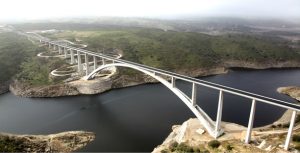 The world's largest concrete arch bridge for high-speed rail service, the Viaduct Over River Almonte, Spain, won the 2018 Excellence in Concrete Construction Award. Presented by the American Concrete Institute (ACI), the award is given annually to projects demonstrating excellence in concrete innovation and technology.
The Reston Station OB1 Tower in Reston, Virginia, won in the high-rise buildings category, while the University of Iowa Visual Arts Building in Iowa City is the award recipient for low-rise buildings. The top honor in mid-rise buildings went to 1200 Intrepid Avenue in Philadelphia, Pennsylvania. The Water Garden in Santa Monica, California, was the runner-up in the decorative concrete category and the Provo City Center Temple in Provo, Utah, was the winner in the repair and restoration category.
An independent panel of industry professionals selected winners based on architectural and engineering merit, creativity, innovative construction techniques/solutions and use of materials, ingenuity, sustainability, resilience, and functionality.
Entries for the 2019 Excellence in Concrete Construction Awards are being accepted now through April 2, 2019. Projects need to be winners at a local ACI chapter and submitted by that chapter or chosen by one of ACI's international partners.