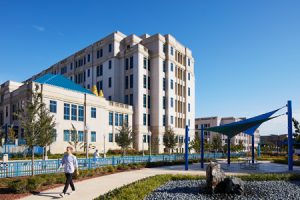 The Cook Children's Medical Center, South Tower, in Fort Worth, Texas, has won the Healthcare and Medical award by the Precast/Prestressed Concrete Institute (PCI).
A panel of judges awarded 17 projects and six honorable mentions across North America for excellence in design in transportation and building categories in the 2019 PCI Design Awards program.
Now in its 56th year, the awards showcase the creative and innovative uses of precast and prestressed concrete in a variety of structures.
"As an industry, precast concrete manufacturers have a long history of delivering high-quality, resilient, and beautiful building and infrastructure systems to the marketplace that enhance end users' lives," said Bob Risser, PE, president of PCI. "The PCI Design Awards are one way we recognize the best of the best in structural and architectural design and building innovation."
Industry experts including precast concrete producers, engineers, and architects judged the nominees on aesthetics, structural integrity, use versatility, site, energy and operational efficiency, risk reduction, and resiliency.
For complete list of award winners, click here. All winning projects will be showcased and honored at the PCI Convention in Louisville, Kentucky, next month.