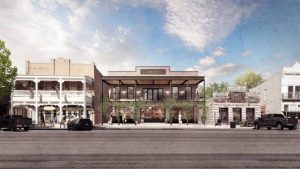 Architectural firm, Clayton Korte, and hospitality management company, New Waterloo, have designed Albert Hotel in Fredericksburg, Texas, to pay tribute to the legendary Texan preservationist architect Albert Keidel.
Keidel family's connection to Fredericksburg dates to 1847, when Albert's great-grandfather arrived to serve as the town doctor and judge. In keeping the memory of Keidel and his family alive, the hotel is situated on the historic downtown Fredericksburg location where Keidel family and homestead still exist and are now integrated into the new hotel development.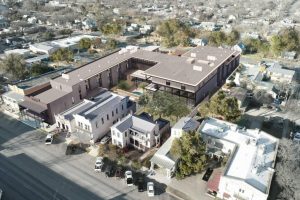 For the project, Trinity Constructors will serve as general contractor, while Word + Carr is the landscape architect. The 10,637 m2 (114,500 sf) boutique hotel will feature 9866 m2 (106,200 sf) of new construction with 771 m2 (8300 sf) of renovation. The historical structures—Keidel family home (built in 1860), the Brockmann-Kiehne House (built in 1870), Keidel Pharmacy (built in 1906), and the White Elephant Saloon (built in 1888)—preserve the traditional streetscape, while the hotel itself is tucked behind these structures to reinforce the sense of peaceful escape.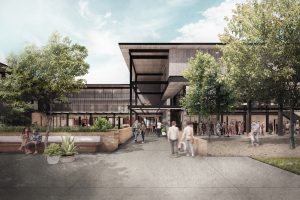 The material palette of the new building draws from the surrounding Hill Country. Traditional wood siding is paired with a custom raked stucco finish, designed to capture and reflect the changing sunlight throughout the day. An undulating façade paired with generous roof overhangs protects interior spaces and walkways from the intense summer sun. The interiors reflect the softer side of Albert Keidel's global sensibilities. Material-driven, layered, and eclectic, the design is warm yet unfussy, offering a chance for unexpected discoveries throughout.
"The design embraces the fabric of the city and celebrates the hard-won character and patina of the historic structures. The new elements are quiet partners, complementing without overshadowing what's already there," notes principal architect Paul Clayton of Clayton Korte.
The Albert Hotel is expected to open in the winter of 2022-2023.