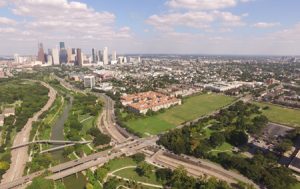 The Ismaili Council for the USA has selected DLR Group|Westlake Reed Leskosky (WRL) to lead design the first Ismaili center in the United States, alongside London-based design architect Farshid Moussavi and landscape architect Nelson Byrd Woltz.
DLR Group|WRL was awarded the role of executive architect and architect of record through an international design competition.
Once complete, the center in Houston will be a national hub for the social, cultural, and intellectual activities of the Ismaili Muslim community. It will serve the city's approximately 40,000 Ismaili Muslims and is expected to include a jamatkhana, or prayer hall, educational spaces, a social hall, and several multipurpose meeting and conference spaces.
The selected site will become the seventh in the world—the other six are located in London, Vancouver, Lisbon, Dubai, Dushanbe, and Toronto.
"We are excited to be working with architects of world stature and experience to design this unique project," said Barkat Fazal, president of the Ismaili Council for the USA. "It will embody both Houston's and the Ismaili community's pluralistic vision."