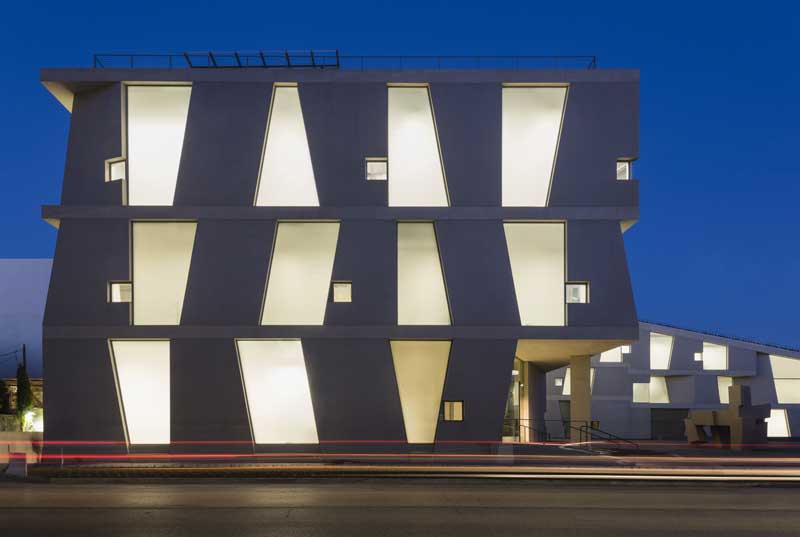 The Museum of Fine Arts, Houston (MFAH) opened the first phase of its campus redevelopment project with the inauguration of the Glassell School of Art by Steven Holl Architects. The building is the first of three planned for the museum's $450-million expansion of its Sarofim Campus, which is the largest cultural project under construction in North America, according to the firm.
The L-shaped facility is constructed from a series of sandblasted, precast concrete panels, alternated with panes of glass, and features a sloping, walkable roofline that runs the length of the building, connecting wide-stepped seating at the base with a rooftop garden above. Glassell School's 8640-m2 (93,000-sf) interior includes three dozen studios, all lit with natural light, as well as public gallery spaces and a 75-seat auditorium.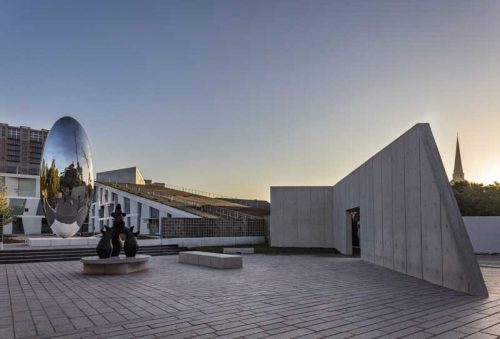 "Our building for the Glassell School is a key part of the overall strategy to shape the public spaces for the entire campus," says Steven Holl. "The alternating concrete and glass panels create a porosity between indoors and out, and the gathering spaces—including the building's walkable, sloping roof—provide a civic experience for students and the public alike, with spectacular views of the neighborhood and the city skyline."
The Glassell School reflects the Museum's commitment to developing future generations engaged in the arts, according to Joseph Havel, the school's director.
"The new building brings our mission as the teaching wing of the MFAH to an entirely new level," says Havel. "The drama and beauty of the design, matched to an exceptionally functional and durable building made specifically for art-making practices, will challenge the imaginations of our faculty and our students."
Glassell School of Art opened with the adjoining the Brown Foundation Inc. Plaza, designed by Deborah Nevins & Associates in collaboration with Nevins & Benito Landscape Architecture, which is comprised of nearly 1 acre (0.4 ha) of pubic greenspace.
The development's two remaining buildings are under construction; the Nancy and Rich Kinder Building (Steven Holl Architects) is expected to open in early 2020, while the Sarah Campbell Blaffer Foundation Center for Conservation (Lake|Flato Architects) is slated for later this year. The completed development will feature an underground parking garage and connecting tunnels.
To read more, click here.