Accelerated indoor weathering
The issue with indoor weathering is simulating natural sunlight in a way intense enough to accurately represent real sunlight. Xenon-arc lamps do a very good job of this in the UV, visible light, and parts of the infrared regions. Additionally, they are very intense and can operate 24-7, so months of exposure in this simulation can equate to years in the real world.
The xenon-arc units used by the roofing industry are equipped with water sprays. Every 12 hour period has 30 minutes when the sprays are turned on. This testing is part of the ASTM D6878, Standard Specification for Thermoplastic Polyolefin-based Sheet Roofing, which requires TPO to be capable of surviving 10,080 MJ/m2 of UV energy without showing any surface cracking. Today, all TPO produced in the United States exceeds the standard, with regular products measuring twice that level, and some up to four times the level.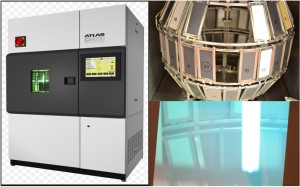 Accelerated weathering test with fluorescent UV light
Some industries view the xenon arc test as too severe and prefer to use a different light source. The most popular of these tests is based on the use of fluorescent lamps tuned to produce UV light. As with the xenon-arc equipment, these can be fitted with water sprays to function for 30 minutes every 12 hours. The units can be useful for initial screening of formulations, as well as benchmarking of competitive products. However, for rigorous testing, the xenon arc is the most severe.
Heat aging
As stated earlier, heat aging is relatively easy to do using a scientific oven capable of holding a temperature such as 115 or 135 C ± 2 C (240 or 275 F ± 3.6 F) for months. To achieve accurate results, the temperature must be even throughout the oven. ASTM D6878 requires the heat aging TPO membranes to be 90 percent tensile strength retention after aging at 115 C (240 F) for 32 weeks. All available commercial membranes pass this requirement, despite there being heat-related failures.
Some companies use a higher temperature of 135 C (275 F) and require their membranes to go through 90 days without cracking or weight loss above 1.5 percent. This equates to 490 days at 115 C (240 F)! In the most extreme cases, some require membranes to survive more than 190 days at 135 C (275 F), which is equivalent to 750 days at 115 C (240 F).
Conclusion
Although manufacturers may not be able to wait 20 to 30 years to test membranes' lifespans in real-life conditions, there are plenty of options to help extrapolate how a product may perform against weathering. The best TPO manufactures often rely on multiple methods when developing products.
Tom Taylor has more than 20 years of experience in the building products industry, working for manufacturing organizations. He is the executive director of building science for GAF and received his PhD in chemistry from the University of Salford, England. He holds approximately 35 patents. Taylor's main focus at GAF is thermoplastic polyolefin (TPO) and iso polyisocyanurate foam development, as well as all the associated accessories and adhesives. He can be reached at TTaylor@gaf.com.