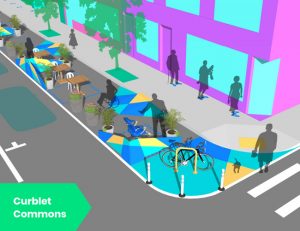 The City of Baltimore, Maryland, in partnership with the nonprofit, the Neighborhood Design Center, has released the Design for Distancing Guidebook, a digital resource that will provide safe placemaking inspiration for businesses, cities, and people worldwide to safely reopen and improve their own public spaces.
Developed in response to COVID-19 and the challenges faced by local businesses, the Design for Distancing initiative called on Baltimore's design and public health communities to develop innovative approaches to safe, physically distant gathering. Experts from the Johns Hopkins Bloomberg School of Public Health, a Stakeholder Committee, Baltimore Development Corporation, and the Neighborhood Design Center developed guidelines and launched a competition that sought tactical concepts that prioritized physical distancing, public health, and inclusiveness. A review panel composed of public health experts, leaders from the City of Baltimore, and from the Baltimore small business and design communities voted on 162 design submissions from around the country, which ranged from hand-drawn sketches by children to professional renderings. The guidebook is a compendium of the top 10 concepts that were selected. From there, the design teams partnered with the Neighborhood Design Center to finalize their concepts for the guidebook, and each eligible team was awarded a $5000 stipend.
"This guidebook is Baltimore's gift to the global community, and we hope it will be a valuable resource to areas far beyond our city for the recovery of our economy and population," said Bernard C. Young, Baltimore City mayor.
Custom designs will now be developed to respond directly to the conditions of the neighborhoods and business needs in 17 Baltimore City districts. Each district will be paired with a Baltimore-based design-build team to scope, develop, and implement the concepts. Design-build teams will be offered a stipend, and the construction will be funded through the Baltimore Development Corporation.