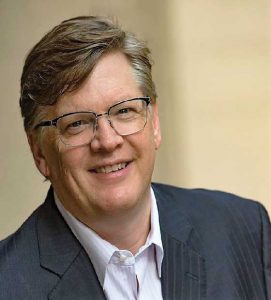 TO BE SPECIFIC
By Mark N. Dorsey, FASAE, CAE
A few weeks into the COVID-19 shutdown, William Sundquist, a friend and CSI board member, found his dining room furniture in the backyard, not because he put it there, but because it had been sucked out of the window during a tornado—while he was in the house.
I got an early text from him with the pictures. After he assured me he was okay, my next question was, "What next?"
He said, "Well, we move on."
Another CSI member lives near him, and he spent the night at their house. The two of them went back, collected some things, and he settled in for what will be a months-long stay at a local Doubletree. Of course, all of this happened with the constant concern of catching the coronavirus in the foreground.
As I think about this world-changing pandemic, I am struck by the value of the friendships and community that form the core of CSI. At a time when we are trying to minimize human contact, friends came to support Sundquist.
As all of us move forward together during this slow-rolling natural disaster, the question remains: What next?
The simple answer is we do not know yet. There are significant hurdles ahead of us and our way of life will take some time to get back to what we consider normal, such as cheering for our local team with thousands of other fans or going to a party.
What we do know is that our community remains intact. In fact, I would argue that it is stronger than ever because of the many ways you and others in the AEC community have rallied around each other in the face of this crisis. While we do not know how the economy will unfold, there will still be construction projects and related challenges in architecture, engineering, product sales, and practice. Yet, we always rebound and rally to address what is next.
Your CSI board of directors and staff are doing what we can to keep you connected, engaged, and ready to adapt with the changing world. Here are a few ways we are answering the question, "What next?"
Keeping you connected
CSI-Connect and the new COVID-19 Response Team hosted by CSI Fellows and Discussion Forums are all designed to connect you to peers who can help you navigate personal and professional challenges.
Free professional development
CSI stakeholders are contributing to free and low-cost content via the CSI Learning Library to enable your professional development and support earning your CSI learning units for certification renewal.
Certification flexibility
Lowest cost pricing has been extended, and new options to take in-home exams or at "COVID-safe" testing centers are rolling out for the spring testing cycle.
Chapters, chapters, chapters
Slowly, but surely, we will come together again face to face, and the best place to do that will be CSI chapters. Stay in touch with your chapter through CSI-Connect and their websites to see what is coming to you locally.
There is more on the way, but the most important part is that during coronavirus restrictions, these offerings are how we will stay in touch and support each other, as work changes, the virus runs its course, or even if we have to pitch in to help a friend after a tornado.
We hope you realize CSI is here for you. No matter what is next.
Mark N. Dorsey, FASAE, CAE, is the CEO of the Construction Specifications Institute. He can be reached at mdorsey@csinet.org.