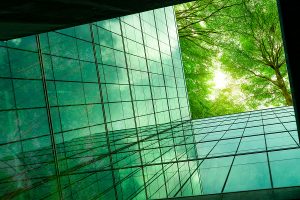 The U.S. Green Building Council (USGBC) has released its annual ranking of Top 10 States for LEED for 2021, with Illinois topping the list.
Last year, the top 10 states, plus the District of Columbia, certified 1105 projects and more than 247 million gross square feet under LEED. Washington, Massachusetts, Colorado and Virginia round out the top five. California, Maryland, Oregon, Utah, and Nevada rank the bottom five.
Notable projects that were certified in 2021 include:
Hines VC Project 20 in Chicago achieved LEED Gold;
Union Station in Seattle received LEED Platinum certification and was the highest Platinum-level project of 2021 in Washington state;
Harvard University Science and Engineering Complex in Allston, Massachusetts, received LEED Platinum certification and was also a regional award recipient at USGBC Live for outstanding design and long-term sustainability focus;
The Denver Water OCR campus of eight buildings achieved LEED certification at various levels: LEED Platinum (1), LEED Gold (5) and LEED Silver (2);
The Government Services Administration facility in Winchester, Virginia, achieved LEED Gold under LEED v4, as well as SITES v2 Silver certification and Guiding Principles Compliance;
1500 Mission Residential in Los Angeles is an affordable and low-income housing project with a rooftop park and wellness features that achieved LEED Gold certification;
Glenstone II Art Museum in Potomac, Maryland, just outside of Washington, D.C., achieved three LEED certifications: LEED Gold for the café, Platinum for the arrival hall and Gold for the museum itself;
Porter Portland Hotel in Portland, Oregon, achieved LEED Silver certification and became the first hotel in the U.S. to certify under LEED 4.1;
Outpatient Clinic and Cancer Center in Provo, Utah, achieved LEED Silver, and;
The City of Las Vegas Municipal Courthouse was certified LEED Silver.