Illinois university wins DOE's net-zero retail building design challenge
by sadia_badhon | May 3, 2021 10:52 pm
An interdisciplinary team of architecture and engineering students from Illinois Institute of Technology[1] (Illinois Tech), Chicago, won the U.S. Department of Energy's (DOE's) Solar Decathlon in the Retail Building Division.
The collegiate competition challenges the next generation of building professionals to design high-performance, low-carbon buildings powered by renewable energy. Students from the Department of Civil, Architectural, and Environmental Engineering and the College of Architecture designed a functional retail building producing as much energy as it uses over the course of a year, or net-zero energy.
The winning Illinois Tech team designed the Nook, a 7618-m2 (82,000-sf) mixed-use retail space located for a vacant lot in Chicago. The students analyzed the cost, environmental impact, energy performance, and durability of the building. They also ensured the building meets real needs of the surrounding neighborhood and keeps with retail trends, to achieve economic as well as environmental sustainability.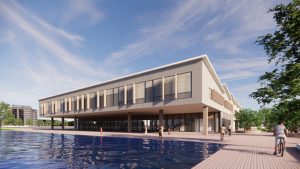 The team focused on achieving a zero-energy target by integrating passive and active engineering and design strategies including: building daylighting, natural ventilation, night purging, a well-insulated and airtight building enclosure, high-efficiency equipment, appliances and fixtures, radiant floor and ceiling panels, HVAC control automation, a ground source heat pump, a green roof, and a roof-mounted photovoltaic (PV) system. The resulting design forms an environment fostering high retail volume, positive energy consumption impact, and community engagement.
"While engineers have studied building operations systems as a means to reduce a building's energy loss, this interdisciplinary project between Armour College of Engineering and the College of Architecture is a unique approach, melding disciplines to find a comprehensive, useful, and beautiful solution to a common problem," Illinois Tech said in a press release.
"Learning to integrate the design of building energy and environmental systems, driven by engineers, but within the context of architectural form and function has the potential to make big impacts on people with minimal impacts on the space," said Brent Stephens, department chair of Armour College of Engineering's Department of Civil, Architectural, and Environmental Engineering. "Only with the combined efforts of architects and engineers can we really come up with both clever and realistic solutions to shared problems."
The area surrounding the site has eight schools, and the need for a community center and modern retail convenience such as hybrid traditional retail and e-commerce fulfillment centers formed an inherent part of the design from the outset.
"The Nook is a non-traditional split-level retail building tailored toward fostering a sense of community with the surrounding schools and their students," said team member Margarita Ramirez-Rodriguez, architectural engineering student at the Armour College of Engineering.
The building was designed to be operational year-round, with a rainwater collection system feeding the green roof, sensors adjusting lighting and conserving energy, and a solar array feeding excess energy into rechargeable batteries.
In addition to its role as a community center, the facility can be used as an emergency shelter with rechargeable batteries which are also able to power the building during power outages, peak electricity hours, and at night. In case of an emergency, like a brown out, the building would cut down its power usage by 75 percent.
The roof's sawtooth design is inspired by the historical factories surrounding it, but also allows for daylighting, rainwater collection, and ventilation. When open, the roof's shape and orientation channels the West/East prevailing winds, producing a passive negative pressure for enhanced exfiltration.
The student team worked with a range of industry partners including ASHRAE Illinois Chapter, Chicago Public Schools, dbHMS, Larson & Darby Group, SCB, Baumann Consulting, Cushing Terrell, Elevate Energy, Passive House Institute U.S., and zpd+a Architects.
Endnotes:
Illinois Institute of Technology: https://www.iit.edu/
[Image]: https://www.constructionspecifier.com/wp-content/uploads/2021/05/Opener-5.jpg
Source URL: https://www.constructionspecifier.com/illinois-university-wins-does-net-zero-retail-building-design-challenge/
---