By Mark Huxta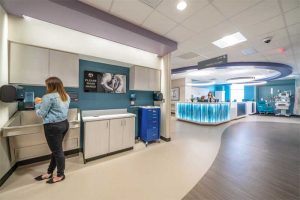 Hospitals can be a source of stress for occupants. It is ironic places intended for healing and care are often teeming with overworked frontline staff, anxious visitors, and nervous patients. Needless to say, it has never been more important to ensure healthcare employees, patients, and their loved ones feel relaxed and comfortable in hospital environments.
Designers can make healthcare spaces safer and more comfortable in a variety of ways. From controlling aromas and sound to creating community spaces that encourage relaxing interactions, there are many elements design professionals can bring to hospitals to make the patient environment more friendly, open, and welcoming.
While there are countless ways to improve the patient experience, flooring can play a major role in the overall wellness of healthcare workers. Covering the largest surface area in buildings, the right type of flooring can help address a myriad of environmental stressors.
Challenges facing the healthcare industry
The healthcare industry is facing three major challenges. The United States Census Bureau reports there are approximately 73 million baby boomers. By 2030, all baby boomers will be over 65 and account for one in five people in the country. This generation is expected to live an average of five years longer than their parents, meaning they will require additional healthcare services and, potentially, with greater frequency, and thus, overcrowd hospitals.
Providers also face rising costs and reduced reimbursements, which is creating a fiscal crisis threatening the future of healthcare. The challenges become greater when non-reimbursable costs associated with "never events" are included. Whether it is a hospital acquired infection or a patient injury from a fall, the costs associated with these types of events are wholly covered by the provider, further stressing their financial sustainability. The key to managing these challenges is balancing patient experience and outcomes with the financial sustainability of the providers.
The nursing population is also aging. The American Association of Nurse Practitioners notes the average age of nurse practitioners is 47 years old.
An aging nurse demographic coupled with both the physical and mental stress from extended work hours has contributed to burn out and threatened staff retention. According to the American Association of Colleges of Nursing (AACN), the U.S. nursing shortage could reach 500,000 by 2025.
Creating safer spaces with evidence-based design
According to the Center for Health Design (CHD), "the built environment is a powerful force for inpatient care."4 When designed with intent and a focus on outcomes, healthcare settings can enable care providers to do their work more effectively with the potential to enhance patient safety.
The CHD defines evidence-based design (EBD) as "the deliberate attempt to base building decisions on the best available research evidence with the goal of improving outcomes and of continuing to monitor the success or failure for subsequent decision-making." EBD can include visibility, paths of travel, ergonomics, acoustics, and more.
Significant strides have been made to enhance visitor and staff experience as well as patient outcomes using EBD principles. For example, increased interactions and visibility between patients and hospital staff can positively affect the healing processes. These thoughtful conversations could include carefully explaining a procedure to a patient to assuage their fears or providing a needed support system through rehabilitation of an injury. In fact, research shows patients with low levels of stress may heal up to 40 percent faster than those who display high anxiety.
Mitigating slips, trips, and falls
While hospitals have made great strides over the years to help prevent patients from falling, they persist. A study by Johns Hopkins revealed slips and falls cost U.S. hospitals $34 billion in direct medical costs. At medical facilities, reducing injury from falls may lessen unbudgeted and non-reimbursable treatment charges and reduce patient pain and suffering at the same time.
The coefficient of friction (CoF) of flooring is directly tied to the slip factor. The force of impact is what affects the severity of the fall. While hospitals have taken steps to prevent slips and falls with grip rails and bed alarms, flooring can also help prevent these accidents.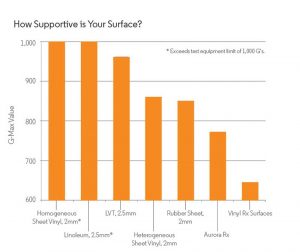 The majority of flooring in hospitals is 2 to 3 mm (79 to 118 mils) thick. Even if it is resilient flooring, patients who slip and fall on a thin surface experience an impact similar to landing on concrete. Installing a thicker surface—specifically an engineered one featuring vulcanized composition rubber—can reduce force impact up to 35.5 percent compared to thinner surfaces.
Flooring products that are evaluated according to industry protocols, including ASTM and Clegg tests, can help reduce slips and the force of impact if a fall does occur. While softer products like textiles can also minimize slips and falls, they are not ideal for healthcare environments. Resilient surfaces, such as a 7-mm (276-mil) engineered surface featuring a heterogenous sheet vinyl or homogeneous sheet rubber fusion bonded to a vulcanized composition rubber backing, have proven to reduce force impact while still providing the same hygienic properties and sustainability as their thinner flooring counterparts.