Enhancing ergonomics
Ergonomics is the science of matching workspace conditions and job demands to the capabilities of workers. Incorporating effective ergonomics into the design of a product or facility can lead to avoiding injury, increased staff satisfaction and productivity, and improved patient experience.
For example, flexible furniture configurations where workers can sit, stand, and collaborate with others can yield greater productivity and wellness.
Ergonomics are critical for frontline workers. Most nurses now work long shifts and can walk anywhere from 2.4 to 5 km (4 to 8 mi) a day depending on the work environment. This can lead to a variety of injuries, including back and knee pain, bone spurs, and plantar fasciitis.
To address these challenges, flooring must strike the right balance between energy restitution and force reduction. Flooring that is too hard puts additional stress on joints while surfaces that are too soft can contribute to fatigue and even compromise balance.
Creating a surface that enhances ergonomics begins with understanding the three phases of footfall. In the foot impact phase, the surface absorbs energy as the foot impacts the surface it deflects. Then, during the loading phase, the accumulation of stored energy strikes the middle of the foot. Captured energy is then released into the foot moving forward in the final energy restitution phase.
The key to addressing these challenges is to balance force reduction and energy restitution. Flooring must provide the ergonomic support needed to keep frontline staff comfortable during long shifts, while being durable enough to withstand heavy rolling and static loads. Vulcanized composition rubber offers a suitable balance.
Flooring that returns positive energy to the user and reduces impact can lower fatigue and stress on the body. The Agency for Healthcare Research and Quality found nurses who show less fatigue at work are not only more likely to provide better bedside care, but also their overall quality of life outside of work may be improved. Other benefits include reduced absenteeism, lower attrition, and improved productivity.
Evaluating hospital soundscapes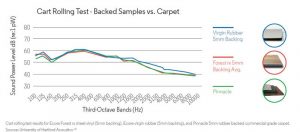 Noise is a major concern in hospitals that can lead to adverse patient outcomes due to poor sleep and increased stress levels. In fact, "quiet at night" is one of the lowest scoring categories for Hospital Consumer Assessment of Healthcare Providers and Systems (HCAHPS). With HCAHPS being the basis for reimbursements, poor acoustics may lead to loss of revenue for the provider, further compounding the financial stress on healthcare systems.
Numerous studies have been conducted to address concerns over hospital noise. Evidence suggests poor acoustical environments can have a negative impact on psychological and physiological reactions from both patients and staff. Reduced sleep, negative cardiovascular response, increased need for pain medication, and extended hospital stays are just a few ways noise can be detrimental to patient health.
Improvements to the sound environment, such as adding sound-absorbing materials, may positively impact staff and their perception of noise. Additionally, enhancements to the sound environment have been linked to improved patient sleep, which contributes to better outcomes. Therefore, the soundscape should be a key consideration in hospital design to support the health and safety of occupants.
Addressing acoustics
In 2019, the Journal of the Acoustical Society America (JASA) published a study that evaluated hospital soundscapes. This groundbreaking research expanded the scope of analysis beyond the traditional acoustics methodologies to include speech intelligibility, spectral analysis, and occurrence rates.
There are a multitude of noises in healthcare settings, many of which are directly related to flooring, such as footfalls, rolling loads, and dropped objects. In 2014, another study published by JASA measured the soundscape of an ICU where acoustic parameters were extracted from a ~ 67-hour audio recording while a selected 24-hour recording was annotated offline for a source-specific analysis.
The contribution of each noise category to the predicted loudness peaks (PLP) was found to be more uneven: staff (92 percent), alarms (six percent), and device noise (two percent). The study suggests most of the noise sources in ICUs may be associated with modifiable human factors, with footsteps being one of the top-five contributors to PLP peaks. These studies suggest a correlation between reducing floor noise to improve HCACPS.
Reducing flooring noise helps create a sense of quiet, which can lead to a ripple effect of further mitigating sound levels. For example, lower noise levels may also encourage people to lower their voices since the space is quieter.
Vulcanized rubber composition flooring creates the necessary "give" that increases impact time and helps to change the characteristics and reduce noise.
Testing using ASTM E3133, the Standard Test Method for Laboratory Measurement of Floor Impact Sound Radiation Using the Tapping Machine, shows floor impact-radiated sound from a variety of surfaces, including concrete, luxury vinyl tile (LVT), vinyl composition tile (VCT), vulcanized composition rubber with cork, and vinyl fusion-bonded to vulcanized composition rubber. The last two surfaces mentioned demonstrated up to a 60 percent reduction in the overall sound level.