How to improve acoustics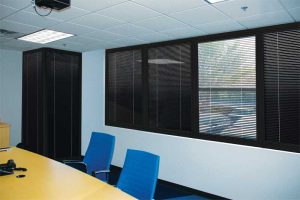 While there are many aspects of interior spaces that could make an environment comfortable, such as sound-absorbing surfaces and interior partitions, exterior façades are key. To obtain the desired level of acoustic performance, it is important to consider the type of glass and fenestration used on a building.
While standard window wall and curtain wall can provide effective acoustical performance, denser assemblies that are more strongly reinforced, like high-impact systems, have better sound-dampening qualities, as they are heavier with thicker laminate glass (Figure 1).
There are also high-performance panels that when added as an interior secondary access panel to the interior wall of the glass system, can significantly dampen the sound waves. These can be added to storefronts, curtain walls, or windows in new and retrofit buildings. This simple addition, when incorporated early on in a project, can improve an STC and/or OITC rating by eight to 10 points. Another solution for dampening outside noise is adding laminates to insulating glass units (IGUs). Additionally, it is critical to select the appropriate thickness as the heavier the glass, the better the sound dampening quality. Of course, it is critical to ensure the framing system and glazing are sealed appropriately. Further, various laminate options can be explored to potentially improve acoustical performance. Polyvinyl butyral (PVB) interlayers, for example, when used at 1.5 mm (0.060 in.) could provide better performance.
Early collaboration
There are many benefits to early collaboration with fenestration product manufacturers and acoustics specialists. It is more cost effective to consider acoustics on the front end of a project. Although the type of glass needed may be more expensive to purchase upfront, the cost of retrofitting for acoustics is higher. The failure to budget for acoustics can also lead to additional unforeseen expenses. For example, when building a hotel near a busy street, airport, railway, music venue, or other noisy environment, acoustics will be of utmost importance for guest comfort and for business to thrive. According to an earlier article in The Construction Specifier, the Residence Inn Sandestin at Grand Boulevard in Miramar Beach, Florida, is an example of how acoustics can make an incredible impact on occupant comfort, and ultimately sales.10 A busy street and nearby highway noise was greatly impacting guests' experience at the hotel, despite excellent customer service and amenities. Since noise mitigation was not considered upfront in the hotel design, management spent more than a year assessing the problem and figuring out a solution. The end result, after installing a second, inner soundproofing window to 176 units along the front of its property, was a jump in ratings and superior comfort for guests.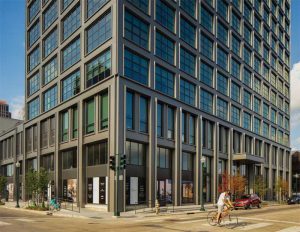 For some projects, only part of a building may be impacted by noise. In these instances, it is beneficial to understand the type and frequency of exterior noise because this allows for cost-effective planning and each side of the building can be dealt with as differently as need.
In the case of the Standard New Orleans, a luxury condominium building, acoustics were a critical factor in defining comfort for occupants. Since one side of the building faces a higher level of outside noise than the other, it has a different OITC rating. As a result, a higher level of fenestration was needed for that side. A hurricane-impact window wall was leveraged for this reason. The glass in this system is 33 mm (1 5/16 in.) laminated, thereby providing a better sound performance. This wall system was leveraged for acoustical performance, as it was not close enough to the coast to fall into hurricane code requirements. It provides strong sound attenuation as the system stops at each floor, eliminating the transmission of sound waves from floor to floor. The system itself has an STC rating of 39, about three points better than a typical non-impact window wall that typically uses two monolithic glass lites of different thicknesses.
Conclusion
It is evident acoustics will impact the future of the construction industry. Greater acoustical performance is already mandated by several jurisdictions, including California, New York City, and Chicago. The mandate is likely to spread across to other areas and also become more stringent in the future. As experts continue to link noise exposure to comfort and well-being, acoustics need to be considered as highly as thermal and accessibility standards for new construction projects and renovations. Architects and specifiers will likely find clients are satisfied and grateful when they experience the benefits of high acoustic performance.
Heather Evans is a certification program engineer at YKK AP America Inc. She joined the company in 1999. Evans spent several years managing and implementing collateral and estimating software before joining the product development team in 2016. Evans holds a bachelor's degree in industrial and systems engineering from Auburn University. She can be reached at heatherevans@ykkap.com.