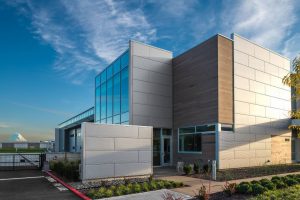 by Ian Manser
Insulated metal panels (IMPs) have gained significant traction in recent years as a factory-assembled alternative to standard, site-built construction types. Comprising two impermeable metal facers separated by an insulating core—typically a polyisocyanurate (polyiso) foam plastic with R-values exceeding R-7 per inch thickness—IMPs are commercially available in multiple thicknesses. Additionally, they provide thermal resistance with an effective air/water/vapor barrier in a single component. The configuration of the panel and seals offer a wall cladding where the insulation and air/water barrier are in an optimal location, thereby providing the building performance dictated by today's design professionals. In light of these potential advantages, IMPs are increasingly included by designers in more complex wall assemblies where the panels offer thermal and weatherization functions. Other elements can also be included for alternative exterior aesthetics and redundancy in air and moisture control.
The desire for higher energy efficiency while maintaining fire safety has grown increasingly challenging due to rising sensitivity to energy costs and impacts coupled with more aggressive energy code requirements. For example, stretch codes are being used in some communities to go beyond the current national building energy codes and provide at least 20 per cent more efficiency. Manufacturers have responded by introducing new technologies specifically developed to deliver energy performance far beyond typical buildings in the past. However, it is important to understand many of these components (insulations and air/water barriers) may provide this improved performance at the trade-off of introducing what the building codes, including International Building Code (IBC) – Fire Safety, FS5-07/08, Part 1, consider to be "combustible" materials (e.g. foam plastic insulation used in IMPs) into the building assembly.
Standards and tests
Code officials and fire safety organizations acknowledge the challenge of balancing energy performance with fire safety. They have developed requirements allowing the employment of combustible materials in various construction types, while including more stringent fire performance criteria for these products to help ensure a safe environment.
IBC has addressed the importance of fire safety for combustible components through work with standardized testing organizations such as ASTM and National Fire Protection Association (NFPA) and certification bodies like Factory Mutual (FM) and Underwriters Laboratories (UL), resulting in code sections especially developed to implement these standards. As an example, Section 2603, "Foam Plastic Insulation," of IBC is of particular interest when considering foam plastic insulations (including IMPs) as it governs the requirements and uses of foam plastic insulation in buildings and structures.
To help predict the performance of combustible materials in fire situations, specifiers and design professionals can refer to the following standards:
ASTM E84, Standard Test Method for Surface Burning Characteristics of Building Materials;
FM 4880, Class 1 Fire Rating of Insulated Wall or Wall and Roof/Ceiling Panels, Interior Finish Materials or Coatings, and Exterior Wall Systems;
NFPA 286, Standard Methods of Fire Tests for Evaluating Contribution of Wall and Ceiling Interior Finish to Room Fire Growth; and
UL 1040, Fire Test of Insulated Wall Construction
However, these standards do not necessarily address all of the possible scenarios affecting fire propagation.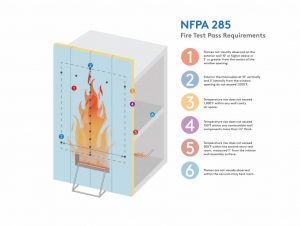 The NFPA 285, Standard Fire Test Method for Evaluation of Fire Propagation Characteristics of Exterior Nonloadbearing Wall Assemblies Containing Combustible Components, test was developed to evaluate vertical and lateral fire propagation for wall assemblies containing combustible components, such as foam plastic insulation, combustible exterior façade elements (e.g. high-pressure laminate [HPL] and metal composite material [MCM]), and some air/water barrier materials. Since its introduction in 1998, NFPA 285 test has proven to be a valuable means of evaluating more complex wall assemblies. Its use has expanded as energy codes continue to increase the requirements for continuous insulation (ci) outboard of exterior walls. Further, designers often specify separate vapor, water, and air barriers in an exterior wall assembly.
The critical aspect of NFPA 285 is it is an "assembly" test, meaning the materials and components in question are not being evaluated in isolation, but rather tested as part of the actual wall assembly design being proposed. This allows not only the material being evaluated to be tested, but also any possible interactions with other materials and cavities that may affect the overall performance of the proposed assembly.
The NFPA 285 test comprises a two-story chamber where one wall is a sample of the wall assembly being tested. The test assembly's lower story includes an opening (simulating a window) and fire sources are located within the lower story room and at the window opening itself. The test assembly is instrumented with thermocouples at various locations and subjected to a multitiered intensity fire source. The pass/fail criteria include:
flames not visually observed on the exterior wall 3 m (10 ft) or higher above or 1.5 m (5 ft) or greater from the center of the window opening;
exterior thermocouples at 3 m vertically and 1.5 m laterally from the window opening do not exceed 538 C (1000 F);
temperature rise does not exceed 538 C within any wall cavity air space;
temperature rise does not exceed 399 C (750 F) within any combustible wall components more than 6.3 mm (¼ in.) thick;
temperature rise does not exceed 260 C (500 F) within the second-story test room, measured 25 mm (1 in.) from the interior wall assembly surface; and
flames are not visually observed within the second-story test room.
In support of their products, many IMP manufacturers have performed and passed the NFPA 285 in most common wall configurations—including horizontal and vertical orientations, open framing and finished interiors for their products—and several wall assemblies where the IMP may be one of several components. As with all combustible wall components, specifiers should request appropriate documentation to ensure code compliance.
Current code requirements and test standards have been developed specifically to provide the flexibility demanded by design professionals without compromising safety. While no system is absolutely infallible, in North America, the IMP industry has been actively involved in this development process for decades, providing the confidence necessary to help designers create high-efficiency building envelopes without sacrificing fire performance.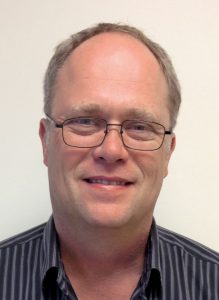 Ian Manser is the technical director for Kingspan Insulated Panels North America. Manser has a background in mechanical engineering and more than 20 years of industry experience. He analyzes, researches, and assists in the application of new and existing high-performance building materials. He can be reached at ian.manser@kingspan.com.