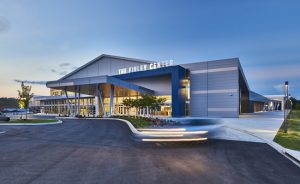 The Finley Center sports complex in Hoover, Alabama, provides a unique blend of multi-functional space for community sports, fitness, conventions, and entertainment. The project's modern design includes an all-metal façade featuring more than 9290 m2 (100,000 sf) of insulated metal wall and roof panels.
The 13,935-m2 (150,000-sf) indoor venue sports 11 basketball and 17 volleyball courts, a walking track, rock-climbing course, meeting rooms, and a food court and kitchen.
"The desire was to create visual excitement both from the exterior and interior as those spaces are engaged," said Erik Consuegra, project manager from Goodwyn Mills Cawood Architecture. "The grays and blues of the Finley Center are primarily drawn from the adjacent Hoover Metropolitan Baseball Stadium that has Hoover-city blue roofing and exposed, cast-in-place concrete. There was a desire for these two facilities to visually relate to one another, creating a common sports campus language.
The center's exterior implements a combination of 50-mm (2-in.) corrugated metal panels and 76-mm (3-in.) insulated metal wall panels integrated seamlessly with a pre-engineered metal building. The insulated metal panels (IMPs), which total 2930 m2 (31,538 sf), were specified in metallic regal gray.
The entire facility is topped by 9255 m2 (99,625 sf) of insulated metal standing seam roof panels in gallery blue. The composite panels combine durable interior and exterior steel faces with a polyurethane insulating core. The panels feature 50-mm high standing seams for lengthy sightlines and a lightly corrugated profile.
The 64-mm (2.5-in.), 24/26-gauge CFR panels deliver an R-value of 20.41. The material's weathertight vertical side seaming also provides a weathertight seal.
All lighting in the facility is provided by low-energy light-emitting diodes (LEDs), and the project utilizes natural lighting in the form of translucent panel clerestories and fenestrations that surround both the event and auxiliary spaces.
The IMPs were constructed from recycled material and deliver a high level of energy efficiency to reduce HVAC costs. Additionally, the product's single-component design led to efficiencies throughout the installation process.