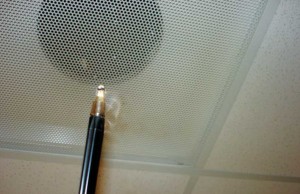 Smoke stick
A simple and fast, but non-quantitative, way to detect the slightest air movement.
Moisture meter: pin-type
Determining moisture at or close to the substrate surface can be done with these devices. Since the meter produces two small pinholes ('fang marks'), it is a destructive test. (Refer to this author's two-part article, "Mysteries of Moisture Meters," in the May and June 2006 issues of The Construction Specifier.)
Moisture meter: pinless
More versatile than the pin type, these devices can be used on different substrates such as cementitious and clay materials, drywall, wood, insulation, and various roof membranes. (For practical applications of various moisture meters, refer to this author's articles, "Facing Floor Failures over Concrete," and "Wood Flooring Woes: Considerations for Finishes and Substrates," in the May and November 2010 issues of The Construction Specifier.)
Moisture meter: concrete
These meters measure actual percent moisture and relative humidity in concrete. When the hood method is used to measure RH, it is a non-destruct test. If the test is conducted using probes set below the concrete surface, then the test is destructive.
RILEM tube
This device—bearing the French acronym for the International Union of Laboratories and Experts in Construction Materials, Systems, and Structures—evaluates masonry's resistance to wind-driven rain and the effectiveness of sealers. Different tubes with applicable calibrations can be used on either CMUs and concrete. (For more, see this author's article, "Measuring Masonry's Moisture: Understand the role of the RILEM Tube Test," in the November 2009 issue of Construction Canada.)
Dry-film gauge
This tool measures dried paint film. It should be able to measure paint thickness on ferrous and nonferrous metals ranging up to 99 mils (i.e. 2.5 mm) thick.
Wet-film gauge
This measures paint thickness in the wet state for comparison with the manufacturer's recommended wet film thickness.
Tooke gauge
Using basic trigonometry, a calibrated scale, and a magnifier, this device identifies the number of coats of paint and the thickness and approximate color of each one. Works best on smooth and firm substrates. Since it cuts the paint film and top of substrate, it is a destructive test.
Pocket microscope
A pocket microscope (i.e. 30-power, with focus and integral light) can be useful for viewing close-up observations, such as paint finishes, surface preparation, corrosion, and hard-to-distinguish print.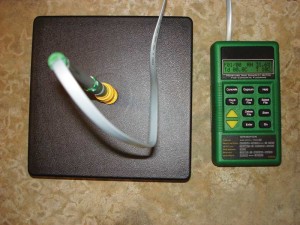 Digital microscope
A 27-power digital microscope with a built-in camera (which takes JPEG photos and has a USB connection for easy downloading) is helpful for reviewing and recording close-up observations.
Binoculars
A good digital binocular—10 x 28 with central focus and an integral digital camera, integral light, removable memory card, date and time stamp, and LCD viewer—can aid in viewing and recording distant or difficult-to-reach locations, such as steep-sloped roofs, cornices, flashing, and windowsills.
Borescopes
A beneficial digital borescope will have removable wireless LCD screens with an 18-m (60-ft) range, integral light, and digital camera that takes JPEG photos or video.
Digital camera
Memories regarding detail can be short, and a photo can clarify uncertainty and simplify reports. At minimum, one needs a 3.0 zoom, 7 MP, date stamp, and a viewfinder. The viewfinder is a must because it is difficult to see a subject on an LCD screen in the bright sun.
Digital voice recorder
Recorders can reduce preparing reports to minimum typing, some editing, and organizing. It is important to opt for voice activation, with application to convert recordings to written text for word processing.
Metal scanner
These devices locate ferrous and nonferrous objects in cementitious substrates; the screen shows location and approximate depth of objects. Scanners are useful in finding reinforcing, metal studs, and piping.
Inclinometer
Inclinometers are useful for measuring slope in ramps, floors, and roofs. They should be at least 609 mm (24 in.) long, with an LCD screen to show slope in degrees, percent, and inches per foot.
Sound meter and field calibrator
Sound meters measure background noise and sound reduction of walls, doors, and windows. These devices should:
comply with Class 1 or 2 of American National Standards Institute (ANSI) S1.4, American National Standard Specification for Sound Level Meters;
possess an A and C scale;
have slow and fast function;
have high and low range (at least 30 to 130 dB);
ave bandwidth of 31.5 to 8KHz;
be accurate within 0.5 dB; and
compute average readings.
A sound level calibrator by the same manufacturer is essential to perform field calibrations required by ANSI S12.60-2002, Acoustical Performance Criteria, Design Requirements, and Guidelines for Schools. Field calibrations are not a substitute for factory calibration.