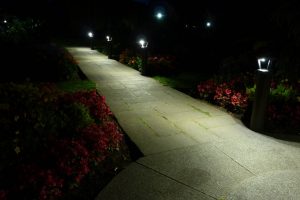 Lighting bollards and trenching
Lighting bollards that need an electrical grid usually require expensive trenching and sometimes need utility boxes. If one is looking for a less expensive option into existing concrete, solar bollards can drastically reduce costs.
For solar lighting bollards to be a feasible solution they must not be permanently shaded. However, even in dark or northern climates, intelligent solar bollards with light-adaptive profiles can work by conserving energy when the light is low by reducing output or only coming on during programmed hours of operation.
Solar bollards can also be interspersed with companion AC bollards, installed where trenching or electrical output will be high cost for little value. Light bollards can usually be installed through either threaded rod or bolt-down options, as well as being installed in new concrete via embedding.
Impact-protective bollards in existing concrete
For places with existing concrete, or with no concrete at all, it is possible to 'core and pour' impact-protective steel and concrete bollards. These simple impact-protective bollards —often seen in parking lots, near drive-through windows, and around utility boxes—are not rated by major standards companies. This is, in part, due to installation factors at the site. How deep are they set? What is the substrate like? How thick is the concrete? Still, when they are properly installed, they offer protective power against crashes.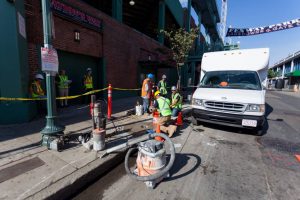 The installation of impact-protective bollards requires a core drilling rig and an auger or post-hole digger.
To core-and-pour a security bollard:
check for underground utilities, wires, and other hazards;
research the frost line depth in the area as the bollard's foot must be placed below this line;
one may require permits depending on their area;
clean the surface of the concrete with brook or pressure washer;
mark the center point of each bollard from the site plans;
center core drill over the mark and use to remove concrete (the diameter of the hole should be at least 50 mm larger at all points from the bollard [e.g. if the bollard is 152-mm round in diameter, the cored hole should be 254-mm round]);
when the concrete layer is removed, use an auger or a post hole digger to dig below the frost line;
using well-mixed concrete the texture of moldable clay, fill the hole until it is level with the surface grade;
set pipe bollard over the hole and turn and push down until bollard reaches bottom of hole and ensure the bollard is plumb by using a level—when the concrete is cured the bollard cannot be adjusted;
fill the bollard to the top with concrete;
form a rounded concrete cap or embed place bollard cap if not planning to cover the bollard;
clean surface of bollard of excess concrete before it cures; and
full curing will take two to three days.
Options for new concrete
These options give a crew some flexibility in adding bollards to a site. However, there are some options that are impossible without new concrete such as:
anchor castings for threaded rod installation;
anti-ram or anti-terrorist bollard systems crash-rated by a standards agency;
retractable bollards with below-grade receivers (those with hydraulic systems will need substantial trench dug for installation); and
mountings for removable bollards which sit flush with the grade.
Finding value in choice of bollard
Bollards seem straightforward: choose a decorative traffic post, and you are done. Yet, several factors in bollard choice can affect the bottom-line. Installation is one of them. The type of bollard is another. Some bollards can do double- or triple-duty—offering traffic guidance, bike parking, and solar lighting all-in-one, for example. Creating a site plan with this flexibility in mind can also help bring a project in on-time and on-budget. Though bollards are understated, they bring a lot of value to a site.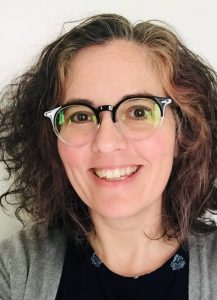 Arwen Brenneman is the brand writer for Reliance Foundry, a leading manufacturer and distributor of bollards, hardscape, and metal castings across North America, which means she regularly writes about the diverse fields of metallurgy, water management, urban planning, and construction. Brenneman can be reached via e-mail at arwen@reliance-foundry.com.