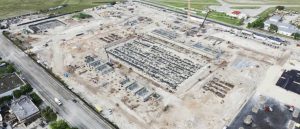 The Fort Lauderdale (Florida) stadium and training complex of the Inter Miami CF team is steadily rising. More than 200 construction professionals are onsite fulltime bringing South Florida's fútbol team to life for its opening season in Major League Soccer (MLS).
In March 2020, Inter Miami CF will take the field in a new 18,000-capacity stadium anchoring the Club's 19-ha (46-acre) facilities in Fort Lauderdale.
To date, the stadium has gone vertical with all steel columns on the east side and half along the west. The crew will begin installing components of the secondary frame of the metal building next week, along with the horizontal structural members that will provide lateral support for wall panels.
The training facilities at Fort Lauderdale include a full kitchen and cafeteria, lounge and classroom, weight room and performance lab, hydrotherapy and treatment rooms as well as tactics rooms and boot rooms.