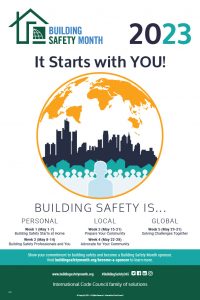 May 1 marked the first day of building safety month 2023, the International Code Council's (ICC's) 43rd annual campaign designed to increase awareness of building safety issues in homes, schools, and other buildings worldwide.
"This year's theme, 'It starts with you,' invites people to consider how building safety impacts nearly every part of their lives, including their homes and families," says ICC president, Michael Wich, CBO. "During building safety month, we encourage people to become more aware of the building codes and standards that protect us from harm. We hope it leads to more discussions around what we can all do to create safer spaces to live, work, and play."
The weekly themes for this year's campaign are:
Week one: Building safety starts at home (May 1-7)—highlights how building safety impacts our everyday lives.
Week two: Building safety professionals and you (May 8-14)—clarifies the role of building safety professionals in our communities.
Week three: Preparing your community (May 15-21)—focuses on how to prepare for natural disasters and other hazardous events.
Week four: Advocating for your community (May 22-28)—provides tips and tools to advocate for local building safety.
Week five: Solving challenges together (May 29-31)—illustrates what different countries are doing to address issues such as water scarcity and clean buildings.
Each year, ICC, its members, and communities around the world celebrate building safety through proclamations, educational events, and community gatherings. To view current proclamations or submit your own proclamation to declare May as building safety month, visit their website.
"Building safety is something many people take for granted," says ICC CEO, Dominic Sims, CBO. "By becoming more aware of building codes and the important role they play in the built environment, we can take an active part in keeping our homes, schools, businesses, and communities safe and sustainable."