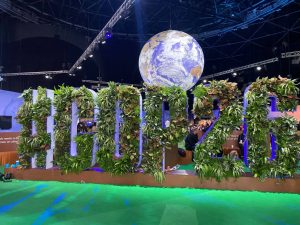 The International Code Council, the largest international organization of building safety professionals, will be actively promoting the important role building codes need to play in helping governments and local jurisdictions around the world meet their Nationally Determined Contributions (NDCs) at this year's global climate change conference, also known as COP26, in Glasgow, Scotland.
From November 1st to 12th, the We Mean Business Buildings Pavilion, organized by the Global Alliance for Buildings and Construction (GlobalABC) and the We Mean Business Coalition, will host events related to building safety and the built environment. As a sponsor, the Code Council will present in-person and virtual sessions, as well as interact with global policymakers and stakeholders in the global building ecosystem.
"With communities searching for solutions to address energy use and reduce emissions, adopting and implementing energy codes are the natural solution," said Judy Zakreski, vice-president of global services for the Code Council. "Governments around the world are looking for tools and solutions to curb emissions, and contemporary building codes are a logical starting point."
During the event, Ryan Colker, the Code Council's vice-president of innovation, will present a paper titled Pathways to Climate Resilience: The Central Role of Building Codes in Climate Adaptation and Mitigation on November 5th at 4 p.m. GMT at the We Mean Business Buildings Pavilion. The presentation will be livestreamed at 12 p.m. ET to a global viewership.
Additionally, Zakreski will facilitate a hybrid session together with Global Resiliency Dialogue (GRD) members from Australia, Canada, and New Zealand on November 5th to launch the its forthcoming publication, Delivering Climate Responsive Resilient Building Codes and Standards.