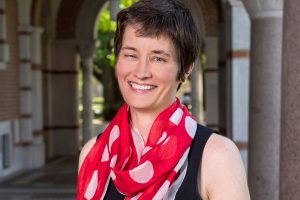 Sarah Whiting, a leading scholar, educator, and architect widely respected for her commitment to integrating design theory and practice, has been named dean of the Harvard Graduate School of Design (GSD).
A Harvard GSD faculty member early in her career, Whiting has served since 2010 as dean of the Rice University School of Architecture (Houston), where she is the William Ward Watkin Professor of Architecture. She is also co-founder and partner of WW Architecture, a firm she launched with her partner, Ron Witte, in 1999.
Whiting will assume the GSD deanship on July 1, succeeding Mohsen Mostafavi, who is stepping down after more than 11 years of distinguished service.
"Sarah Whiting is an outstanding leader with broad interests that range across the design disciplines and beyond," said Harvard University president Larry Bacow. "She has a keen understanding of the intellectual dimensions of design and its distinctive power to shape the world of ideas. And she has an equally keen understanding of design as a force for shaping the communities we inhabit and for engaging with some of contemporary society's hardest challenges. I have been deeply impressed by her during the course of the search, and I greatly look forward to welcoming her back to Harvard."
Whiting's interests are broadly interdisciplinary, with the built environment at their core. An expert in architectural theory and urbanism, she has particular interest in architecture's relationship with politics, economics, and society and how the built environment shapes the nature of public life. Her work has been published in leading journals and collections, and she is the founding editor of Point, a book series aimed at shaping contemporary discussions in architecture and urbanism.
"The GSD has long been a center of gravity for my thinking and actions, and I am thrilled to be returning," Whiting said. "It is altogether tantalizing to look across the school's three departments, with their individual and collective capacities to shape new horizons within Gund Hall. And it is even more enticing to envision working with the GSD's remarkable faculty, students, staff, and alumni to help imagine and create new futures for the world, not just at Harvard but beyond."
Before becoming dean at Rice, Whiting served on the Princeton architecture faculty as assistant professor from 2005 to 2009. From 1999 to 2005, she was a design critic, assistant professor, and associate professor in the Harvard GSD's architecture department.
A graduate of Yale College, Whiting earned her MArch degree from Princeton and her PhD in architectural history, theory, and criticism from the Massachusetts Institute of Technology (MIT). Early in her career, she practiced with the architects Rem Koolhaas, Peter Eisenman, and Michael Graves.