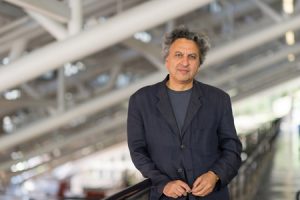 Mohsen Mostafavi, dean of the Harvard Graduate School of Design (GSD) since January 2008, will step down from the position at the end of the 2018-'19 academic year. A dean for more than a decade, Mostafavi has led efforts to strengthen and renew the GSD faculty, to expand and diversify the school's degree programs and its student body, and to extend its scholarly impact both nationally and internationally. As the Alexander and Victoria Wiley Professor of Design, he plans to return to active service on the GSD faculty after a sabbatical year.
"It has been a great honor and a privilege to be part of the GSD community as dean," said Mostafavi. "The incredible diversity, talent, and passion of our students, faculty, and staff both inspire and affirm the school's commitment to educating leaders in design, research, and scholarship to create a resilient, just, and beautiful world."
A leading scholar of architecture and urbanism, Mostafavi guided GSD through a period of growth, innovation, and change. His deanship brought about the strategic expansion of several degree programs, along with an increase in GSD's student body.
Under Mostafavi's leadership, the GSD faculty has grown from 62 to approximately 90, and new faculty have been recruited to chair the school's three principal academic departments: architecture, landscape architecture, and urban planning and design. The school has also pursued appointments intended to add strength in urbanism, sustainability, technology, and social equity.
"Mostafavi has led with imagination, energy, and dedication. Those qualities have strengthened GSD's position as a worldwide leader in design education and research and as a critical bridge between design theory and practice," said Larry Bacow, the university's president.
Mostafavi's scholarly work focuses on modes and processes of urbanization and on the interface between technology and aesthetics. He is a trustee of Smith College and an honorary trustee of the Norman Foster Foundation. Mostafavi served on the steering committee and the jury of the Aga Khan Award for Architecture and has chaired the jury of the European Union Prize for Contemporary Architecture – Mies van der Rohe Award.