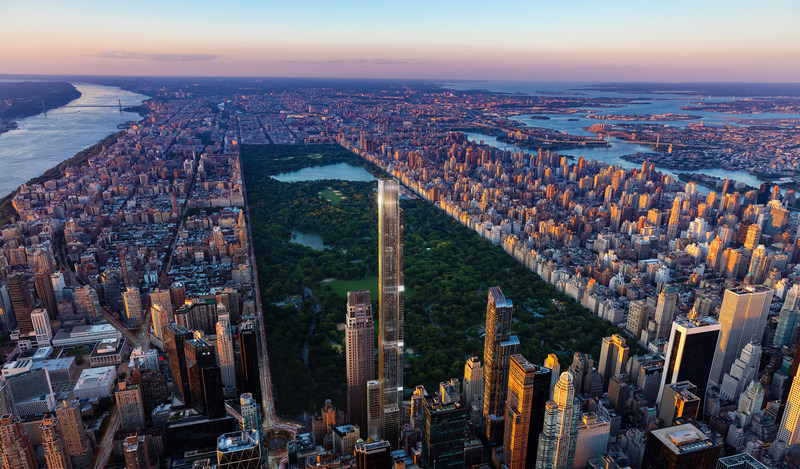 Designed by Adrian Smith + Gordon Gill Architecture (AS+GG), the 472-m (1,550-ft) Central Park Tower in New York City, is now the tallest residential building in the world.
The glass and steel tower overlooking Central Park is home to one of the most expensive residences ever sold in New York City at $100.5 million.
"Over a decade of planning and collaboration with the world's most talented architects, engineers, and designers has resulted in Manhattan's newest iconic structure," said Gary Barnett, founder of Extell Development Company, the building's developer.
The building's façade stands out from its surroundings by combining elements of glass, satin-finished stainless steel, and light-catching vertical and horizontal details. At a height of 91 m (300 ft) from the street, the tower cantilevers to the east, creating Central Park views for all north-facing residences.
The living and entertaining spaces are positioned in the corners of the residences to maximize multiple panoramas and citywide views. Structural elements are located between the residential units, resulting in floor-to-ceiling windows, and unencumbered views.
The interiors of the residences are designed by Rottet Studio. Starting on the 32nd floor, the 179 two-to-eight-bedroom residences range in size from 133 m2 (1435 sf) to more than 1626 m2 (17,500 sf).
Central Park Club, an exclusive private club, will be located within the tower and offer approximately 4645 m2 (50,000 sf) of curated luxury amenities spread across three floors.
The first club level, located on the 14th floor, will feature a residents' lounge with billiards, screening, and function rooms. The centerpiece of this floor will be a 1394-m2 (15,000-sf) outdoor terrace with a 5.5-m2 (60-ft) swimming pool, cabanas, bar, screening wall, food and beverage service, and an outdoor children's playground. The health and wellness center on the 16th floor will include a 5.8-m2 (63-ft) indoor swimming pool, fitness center, basketball court, regulation squash court, sauna, steam, and treatment rooms. The club will culminate on the 100th floor at an elevation of more than 305 m (1000 ft).
At the base of the building will be the 29,729 m2 (320,000-sf), seven-story Nordstrom NYC Flagship store.