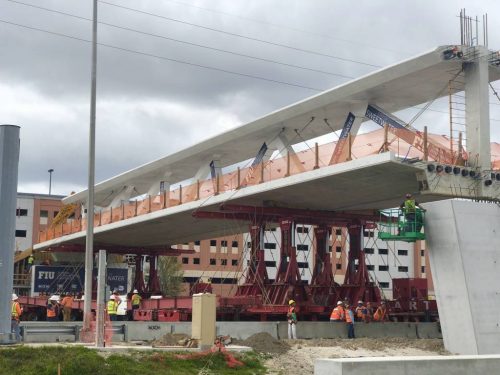 Attention has shifted to investigating the cause of a bridge collapse at Florida International University (FIU) that killed six people and injured many more.
Designed by FIGG Bridge Engineers and built by MCM, the main span of the FIU-Sweetwater UniversityCity Bridge was installed on March 10, less than a week before the collapse. The 862-t (950-ton) installation was built using Accelerated Bridge Construction (ABC) methods, which are researched at FIU's ABC University Transportation Center (ABC-UTC). The 53-m (174-ft) section was built adjacent to the road before being moved into place and installed within a matter hours. ABC methods, which are largely considered safe and sustainable, were selected for the project in order to minimize traffic delays and accelerate construction time.
Authorities said, at the time of the collapse, the cables suspending the bridge were being tightened following a "stress test." Additionally, Florida's Department of Transportation said an engineer with FIGG left a voicemail with the agency two days before the collapse, stating some cracking had been found at one end of the concrete installation, but "from a safety perspective we don't see that there's any issue there so we're not concerned about it from that perspective."
The $14.2-million installation, which spanned an eight-lane thoroughfare, was being installed in an effort to increase pedestrian safety, connecting FIU campus to the adjoining Sweetwater neighborhood.
"It is exactly the opposite of what we had intended and we want to express our deepest condolences to the family and loved ones of those who have been affected," FIU president Mark Rosenberg said in a video statement.
Both FIGG and MCM will cooperate with the incident's investigation.
"We are stunned by the tragic collapse of a pedestrian bridge that was under construction over Southwest Eighth Street in Miami," representatives from FIGG said in a statement. "Our deepest sympathies are with all those affected by this accident. We will fully cooperate with every appropriate authority in reviewing what happened and why. In our 40-year history, nothing like this has ever happened before."
"MCM is a family business and we are all devastated and doing all we can to assist," said MCM's official statement. "We will conduct a full investigation to determine exactly what went wrong and will cooperate with investigators on scene in every way."