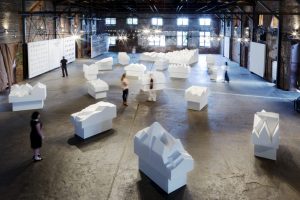 Jennifer Bonner of MALL is the recipient of the 2019 Architectural League Prize for Young Architects + Designers.
This year's competition asked entrants to consider the 'just' in how they approach the practice of architecture, whether through experimentation in research and design advocacy, or by advancing speculative and applied techniques within the discipline, the Architectural League of New York says. The theme was developed by the 2019 Young Architects + Designers Committee, which included recent league prize winners. The competition is only open to designers 10 years or less out of school, and draws contestants from around North America.
Jennifer Bonner founded MALL, a creative practice for art and architecture, in 2009 in Atlanta, Georgia. MALL stands for Mass Architectural Loopty Loops, or Miniature Angles & Little Lines, or Maximum Arches with Limited Liability—an acronym with built-in flexibility. According to their website, MALL is interested in and is committed to projects that re-appropriate history, hack typologies, reference cultural events, and invent representation.
Most recently, Bonner completed a ground-­up residential project in Atlanta's Old Fourth Ward neighborhood. The 204-m2 (2200-­s­f) Haus Gables is said to be one of only two residences in the country made of cross­-laminated timber (CLT). Inventively, a cluster of six gable roofs establishes the structure's angled floor plan, while large asymmetrical windows and pops of pattern and color activate the project's interior, Arch Daily reports.
The five other winning firms are:
Mira Henry of Henry Architecture;
Cyrus Peñarroyo of EXTENTS;
Rachel G. Barnard of Young New Yorkers;
Gregory Kahn Melitonov from Taller KEN; and
Virginia Black, Rosana Elkhatib, and Gabrielle Printz of feminist architecture collaborative.
As part of the 2019 League Prize program, Bonner will speak about her practice in New York City in June among other league prize winners.