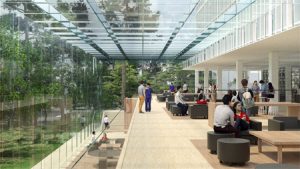 The University of California, Los Angeles' (UCLA's) library masterplan will be redesigned by Johnson Favaro. It will include seven libraries located across the Westwood, California, campus consisting of Young Research, East Asian, Special Collections, Biomedical, Science and Engineering, Music, and Management.
The design aims to respond to the concept of the 21st century library and explore ways to accommodate the impacts of the digital revolution to better serve each library's constituents.
The masterplan will draw on an evaluation of system-wide requirements as well as needs specific to each library. It will focus on existing and future spaces for library users, staff, and collections, as well as spaces such as learning commons, classrooms, and areas for studying, collaborative work, food service, and wellness.
At completion of the masterplan, Johnson Favaro will provide an overall implementation plan outlining a sequence of actions necessary to bring the final proposed plan to completion. The university will determine the preferred scope, phasing, and timing of each improvement to be realized as additional individual projects.
"We have prepared for a project of this scope and complexity almost our entire professional lives," said Johnson Favaro, the firm's principal. "We are thrilled and honored to participate in the reimagining and revitalization of UCLA's library system."