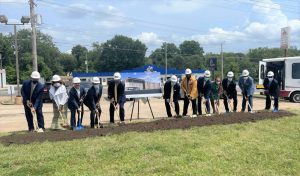 Kennedy Associates Inc. (KAI) joined the Urban League of Metropolitan Saint Louis to officially break ground on the organization's new Senior Apartments and Community Center in North St. Louis County, Missouri.
The 3716-m2 (40,000-sf) facility will be built at 9947 West Florissant in the city of Dellwood. KAI is providing design-build services on the project.
The $10 million, three-story building will include 44 resident units (40 one-bedroom units and four two-bedroom units), including a community room on the main level for 12 to 15 people and a resident lounge with kitchenette and restrooms.
The main level will also include a private managers office, reception area, workroom, and shared access to the community room. Construction on the building is expected to be completed in December 2022.
This new development will provide seniors in Dellwood the opportunity to live in a brand-new building, as well as easy access to many services and programs offered by the organization.
The Urban League of Metropolitan Saint Louis' mission is to empower African Americans and others throughout the region in securing economic self-reliance, social equality, and civil rights. The organization is committed to investing in the continued redevelopment of the West Florissant Corridor through Dellwood and Ferguson.