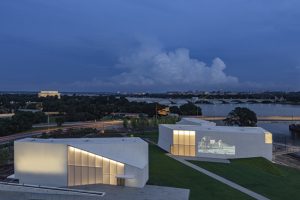 The Reach at the Kennedy Center for the Performing Arts in Washington, D.C., is now open. The expansion, designed by Steven Holl Architects, adds rehearsal, education, and a range of flexible indoor and outdoor spaces.
The design for the Reach merges architecture with the landscape to expand the dimensions of the living memorial of President John F. Kennedy. The landscape design includes a grove of 35 gingko trees (acknowledging the 35th President), and a reflecting pool and mahogany landscape deck are built in the same dimensions and mahogany boards of Kennedy's WWII boat.
In complementary/contrast to the original Kennedy Center building by Edward Durell Stone, the Reach's three pavilions are fused with the landscape.
They are interconnected below green roofs to expand the Kennedy Center's interior space with 6689 m2 (72,000 sf) of open studios, rehearsal and performance rooms, and arts learning spaces.