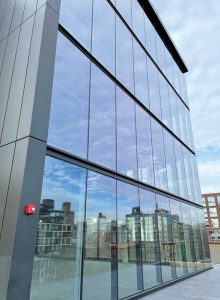 By Bradford J. Antes, PE, and Erin E. Regan, PE
The design phase of a building project allows the design team to select fenestration systems that meet the needs of a project and set up the building for success during and after construction. Design teams must balance performance and practicality to achieve a successful installation while maintaining required fenestration performance.
This article will discuss some key items to include in the project documents during the design of a new building to help achieve a successful fenestration installation come construction.
Specifications
The first description of a new fenestration system will be in the project specifications, where there is a dedicated section describing the system, performance, and testing requirements, as well as other desired characteristics of the specific system.
Performance requirements
There is a wide range of fenestration materials available for both commercial and residential buildings, including aluminum, steel, wood, and fiberglass. The American Architectural Manufacturer's Association (AAMA) instituted performance multiple grade standards for fenestration products in accordance with national and international building codes and other similar regulations.
Residential (R), light commercial (LC), commercial window (CW), and architectural window (AW) grades are available depending on the application, design pressure, water penetration resistance, air leakage resistance, and deflection under design loading among others. In commercial buildings,
LC, CW, and AW grades can be used depending on project performance requirements. For example, LC windows are not tested for maximum allowable deflection of unsupported spans, making them unsuitable for projects with high design loads or specific deflection criteria. It is important to note R-grade windows are intended for smaller/shorter residential buildings and single-family residences and are not appropriate for larger and taller multifamily buildings (which are classified as commercial buildings in most codes).