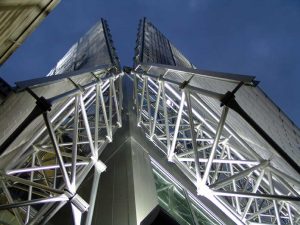 Physical mockups are also important during the developmental phases to assist the design team, building owner, and sometimes, the authority having jurisdiction (AHJ) in understanding the visual and auditory effects of the proposed façade.
Flapper and lighting elements
Wind-driven, dynamic façade systems support a variety of flapper shapes, sizes, and materials. While aluminum is the most popular, other options include perforated materials, stainless steel, polycarbonate, polytetrafluoroethylene (PTFE), acrylic, and even polyvinylidene fluoride (PVDF) films.
Multiple flapper finishes are also available. Standard finishes include anodized aluminum or fluoropolymer paint. Higher gloss finishes, such as metallics, tend to shifting and textured finishes also produce interesting visual effects.
Patterns can be printed or perforated on flapper elements. This can range from basic screen printing of simple patterns to full-color image printing. Large images can be segmented or pixelated across the entire kinetic façade to bring a dynamic appearance to an artistic or branded image.
Flapper elements fabricated from translucent materials allow for natural light to pass through the façade. Translucent acrylic and polycarbonate materials can be specified with infrared-blocking coatings to help manage unwanted solar heat gain inside the building.
Anti-reflective coatings on polycarbonate materials can reduce glare during the day, and at night could act as a backdrop for projected images and lighting effects. Regardless of the flapper element's material composition, many kinetic façade installations incorporate illumination during the evening. Face lighting from above can be used to emulate a daytime view, while dramatic effects can be achieved through the use of various night lighting, including backlighting, uplighting, or wall wash lighting.
Suspension systems
To accommodate the specified flapper elements, there are three typical suspension systems that must be considered for wind-driven kinetic façade designs:
rod-mount;
pin-mount; and
drop-in.
Each configuration possesses different performance and aesthetic characteristics and also baseline costs. Modified and custom systems also can be developed for unique project requirements.
For ease of delivery and installation, each of these motion systems usually is factory-unitized. Dimensions commonly range from 1 x 1.2 m (3 x 4 ft) to 1.5 x 3.7 m (5 x 12 ft) in vertical or horizontal orientations.
For optimal cost and performance value, the drop-in suspension system is recommended. In this configuration, T-shaped kinetic flappers are easily inserted into a specially designed 'rung' extrusion system, significantly reducing the amount of time and labor required for fabrication.
The pin-mount suspension system allows the flapper elements to seemingly float in front of the support rungs and side rails as a veil. This configuration minimizes the appearance of the supporting structure. The pin-mount system allows for mixing flapper shapes to create geometric patterns and for installation at various mounting points, facilitating changes in kinetic activity.
Drop-in and pin-mount suspension systems allow the flappers to be removed and replaced without any specialized tools if repair or maintenance is needed. Both systems also accommodate up to a 90-degree range of motion.
Offering a 360-degree range of motion for the individual flappers, the rod-mount suspension system allows for greater intermittent views through the kinetic façade and minimizes the appearance of the horizontal supporting structure from within the building. They can also permit increased airflow and promote passive cooling. The vertical side rails are typically more prominent within the façade and the flappers can be replaced with simple tools.
Some manufacturers also offer cable-mount suspension systems. These systems suspend the kinetic elements or flappers between a combination of horizontal and/or vertical cables. The flapper replacement for cable-mount systems can involve costly and time-consuming restringing or replacement of the entire cable section.