Manufacturer and installer considerations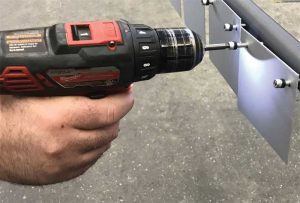 Given the complexity of kinetic façade systems, it is advisable to seek out an experienced designer and manufacturer to participate early in the project's design and specification. It is recommended to look for one offering preliminary cost estimating, mockups, and a variety of fabrication and installation options to meet each project's functional and aesthetic requirements. Some manufacturers will also manage all aspects of the installation process, providing a single-source price directly to the building owner or general contractor (GC).
For maximum cost efficiency, a kinetic façade manufacturer may be willing to deliver its services solely as a material supplier. With this solution, materials are provided directly to a local installation contractor already involved with the project, such as a glazier, curtain wall installer, roofer, or GC. Startup supervision and initial training for installation crews may be included as part of these services.
In the role of a material supplier, the façade system manufacturer may also offer pre-bid support. Generally, this involves formally presenting the system, its installation processes, and other relevant documentation to the prospective GCs and/or installers. Regardless of the tendering process, formally presenting the product ensures prospective bidders have a thorough knowledge of the system, eventually resulting in better quality and more informed bids.
Once the bid is approved and the contract awarded, a successful installation of a kinetic façade is measured in terms of time, cost, and quality. It requires the synergistic coordination of various activities including design, engineering, testing, fabrication, delivery, and installation. This begins during the conceptual design phase, with the development of the project schedule.
Typical project durations range from 12 to 20 weeks from the time of award. The type of overall design, the complexity of the kinetic elements, and the scope of the installation are some of the factors affecting this timeframe. For large-scale kinetic façade systems, delivery schedules often are phased at various construction stages to allow a continuous stream of material through the duration of the installation. This phased method of delivery avoids potential damage to components stored on site and helps conserve space by limiting site laydown and storage areas.
The kinetic façade installation is arranged as one of the final undertakings during building construction, thus limiting the exposure of the façade elements to potentially damaging activities from adjacent trades.
With the installation complete, minimal manual cleaning is required—naturally occurring rainfall is typically sufficient. In situations where more advanced cleaning is desired, mild pressure washing can be employed. While there are no routine maintenance requirements for most kinetic façade systems, periodic inspections for issues, such as storm damage or vandalism, and mounting connection checks are recommended.
With early involvement and ongoing collaboration between the designer, specifier, installer, and supplier, wind-driven kinetic façade systems add a dynamic and distinctive element to parking garages, retail centers, museums, sports arenas, theaters, and other building structures.
Jim Leslie is the general manager of EXTECH/Exterior Technologies, Inc., in Pittsburgh, Pennsylvania, leading the company's mission to improve lives through innovation in daylighting systems, natural ventilation, and other building envelope systems. Working closely with architects and specifiers, Leslie and his team redefine the intersection between the natural and built environments with wall, window, skylight, canopy, and custom systems such as dynamic façade designs. Leslie has a bachelor's degree in mathematics from Penn State University and is a member of the American Production and Inventory Control Society (APICS). He can be reached at jleslie@extechinc.com.
Kevin Smith is a registered architect, and leads EXTECH's team of architects and engineers as director of product application and development. He brings more than three decades of experience in designing commercial, civil, industrial, and transportation projects, as well as daylighting, static, and kinetic façades. He earned a bachelor of architecture degree from Carnegie Mellon University. He can be reached at ksmith@extechinc.com.