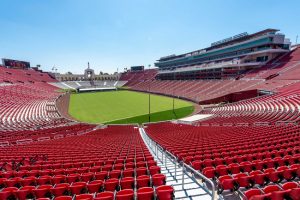 The $315-million renovation of United Airlines Field at the Los Angeles Memorial Coliseum has been completed.
The stadium maintains its historic elements while also transforming into a world-class facility ready to host University of Southern California (USC) and Los Angeles Rams football and global events like the 2028 Olympics.
The facility includes new seats with increased legroom and additional aisles for easier ingress/egress. There are also handrails on all aisles and anti-slip coating on aisle stairs. A new technology infrastructure has been built, highlighted by a stadium-wide Wi-Fi system.
The new seven-story Scholarship Club Tower on the stadium's south side, fronted by a ribbon videoboard, houses suites, loge boxes, club seats, and a new concourse with wider lower vomitories.
The colorful mural of a golden sun and bright blue sky on the ceiling of the iconic east-end peristyle's main archway, painted in 1969 by late artist Heinz Rosien, was restored to its original luster.
More than 600 television screens have been located throughout the coliseum's public areas and the home locker room was updated with new lockers, flooring, and graphics. New videoboards and scoreboards and light-emitting diode (LED) lighting were installed and the sound system was modified.
DLR Group designed the renovation and the construction was a joint venture of Hathaway Dinwiddie and AECOM Hunt.
During the renovation, 35,170 m3 (46,000 cy) of dirt was exported, 470 truckloads of concrete was poured, 1740 tons of rebar and 2131 tons of structural steel was installed, and 17,481 L (4618 gal) of paint was applied.
The coliseum is also a nationally recognized, zero-waste facility, diverting more than 90 percent of refuse from landfills to recycling and composting.