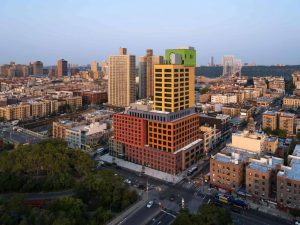 Netherlands-based architecture firm MVRDV has designed a hotel in New York's Washington Heights neighborhood as a structure composed of colorful blocks, resembling a LEGO formation, stacked into a "vertical village" to fuse into the immediate architectural context.
Titled Radio Hotel and Tower, and designed for developer Youngwoo & Associates with Stonehill Taylor as the architect of record, the project is the first completed building by Dutch firm MVRDV in the United States. The building has a dramatic impact on the skyline of Upper Manhattan, yet its design responds sensitively to the neighborhood and adds a hotel, office, and hospitality amenities to the area.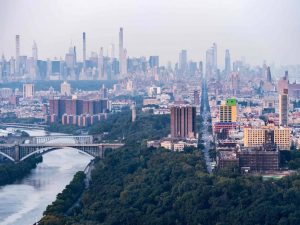 The blocks, clad in eight different colors of glazed brick, match the size of the surrounding buildings, to create a vertical village, in hopes of not overwhelming the surroundings—which is often the case when individual buildings are larger than their neighbors. The stacked shape can provide multiple outdoor terraces, with every block having its own outdoor space on the roof of the block below.
The building's bright colors are a further nod to this part of the city, referencing the shopfronts of the vibrant Washington Heights neighborhood. The brightest colors—bright green, yellow, blue, red, and orange—are found on the upper blocks, while more muted colors—plum, teal, and gray-brown—greet visitors at the street level.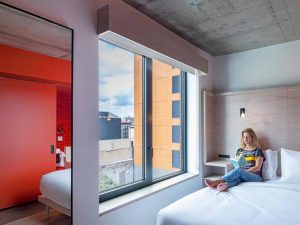 The 221-room hotel's interior design by Workshop APD matches the exterior with its brightly colored bathrooms. In addition, the building includes ground-level retail and over 16,000 m2 (172,200 sf) of office space. On the 12th floor, located in the blue block, is Above The Heights, a dedicated event space suitable for weddings, reunions, bar mitzvahs, quinceañeras, and more events; the adjacent rooftop terrace also features spectacular views of Manhattan.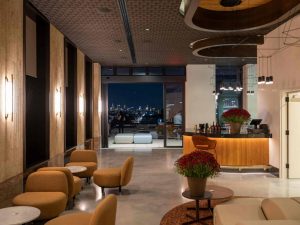 "Washington Heights has a unique and exciting character, very different from the other Manhattan neighborhoods further south," says Winy Maas, founding partner of MVRDV. "The design of the Radio Hotel and Tower is inspired by its character. We took the smaller blocks which are typical in the neighborhood and stacked them into a vertical village. Add to that, the bright colors you see all around the area, the project is like a beacon celebrating this part of the city."