by Carmi Bee, FAIA, and Peter Bafitis, AIA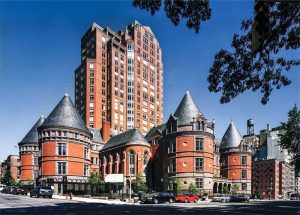 Adaptive reuse has been a long-term success story in North American cities and former industrial and institutional areas. This process involves maximizing the use of existing buildings and materials and restoring the urban and architectural fabric to revitalize cities and places. Tracing the history of advances through the long account of the adaptive reuse movement offers architects and project teams valuable context and insight into current approaches. These authors have been involved in scores of adaptive reuse projects over the last six decades, some of which help illustrate key methods for successful conversion developments. Wide use of zoning variances, as well as model codes such as the International Existing Building Code (IEBC), provides a sturdy platform for architects and specification writers.
Early influences (such as work by these authors' firm, RKTB Architects, and others in New York City beginning in the 1970s) helped set the initial directions for converting disused urban manufacturing and warehouse buildings into live-work occupancies. The emergence of more flexible zoning rules, passed in 1967 and expanded in 1977, added new allowances for adaptive reuse of varied building types, including those for the artists in residence (AIR) designation.
The AIR zoning law allowed for the conversion of scores of commercial lofts for residential use as 'joint living-working' occupancies, but only if a verified artist lived on the premises. In other words, these properties would be off-limits to noncertified artists. The properties marked AIR were 'made safe' for these new uses and signage was posted on the entries of early conversions so firefighters would know the buildings contained residential units and artists' loft studios.
A few years later, in 1979, the National Endowment for the Arts (NEA) enlisted architect Carmi Bee, FAIA (co-author of this article), to study the emergence of artist live-work spaces in converted structures, including seminal projects such as the 1967 to 1970 Westbeth Artists' Housing. This project was a complex of massive steel and concrete structures originally owned by Bell Laboratories in New York City's Greenwich Village, redesigned as residences by Richard Meier & Partners. Bee also studied similar approaches and opportunities for the application of AIR-type conversions in several U.S. cities, including San Francisco, Los Angeles, Chicago, Boston, Seattle, and Portland. The opportunities reported for adaptive reuse were significant, as were the challenges identified for these projects. The findings still resonate today.
Adaptive reuse projects may require:
modifications for fire and life safety;
structural retrofits, including for wind and seismic loads;
energy-related upgrades;
supplemental accessibility features;
egress enhancements; and/or
analysis of fire ratings of archaic materials/assemblies for historic structures.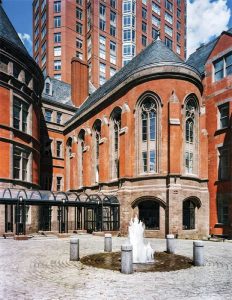 Around the same time as the NEA study, new building codes and hybrid zoning designations were being passed in several jurisdictions, including in the East Coast cities of Boston and Philadelphia, in other, older industrial areas in Los Angeles, and later in Seattle. Some of these jurisdictional ordinances share characteristics of the AIR zoning designation seen in Manhattan. For example, mandatory requirements for components such as a rear yard were waived, as were minimum window sizes for daylight and air for these types of adaptations to residential occupancies. Along with the loosening of such key restrictions on the gainful reuse of old cast-iron and masonry buildings covering thousands of properties, these new rules allowed owners to apply for certificates of occupancy in properties that would previously be considered illegal or in violation of codes.
Savvy real estate developers saw the opportunity to unlock and capture the value of older buildings. Many of the existing manufacturing and warehouse structures were built larger than would be allowed under more recently adopted zoning, so these entrepreneurial builders also enlisted engineers and architects who verified the basic bones of the buildings—their structural systems, floors, walls, stairs, and other elements—were often built well and could be adapted both cost-effectively and safely.
Some preservationists also liked the approach, as it protected the historic urban fabric that had come to define certain city neighborhoods. Over time, advocates for sustainable design and urban revitalization quantified the benefits to their regions of this environment of 'recycling history' for new uses. In fact, the embodied energy of the structures saved and converted in adaptive reuse projects is the equivalent of billions of tons of carbon dioxide (CO2), according to the U.S. Environmental Protection Agency (EPA). Considering that material consumption creates about 41 percent of CO2 emissions and the main source of human toxicity is new building construction, per EPA, it seems important to continue supporting adaptive reuse.
Recent and seminal reuse projects
Prior to groups like the Rouse Companies (known since the late 1970s for creating European-style festival marketplaces in large converted historic structures), young developers such as Rockrose Development Corp., founded in 1970, formed with a specific interest in revitalizing neighborhoods and creating new attainable housing options in areas where they were sorely needed. An essential part of the business approach of these new real estate companies was leveraging shifts in zoning and building codes, including the AIR rules and other regulations allowing conversions of intended use, relaxed environmental rules, or the renovation of historic landmarks.