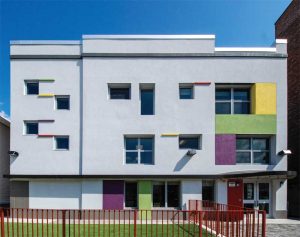 Fire- and life-safety issues
Protecting human safety is paramount in all projects, and in adaptive reuse there are special considerations for fire safety. Among these is the requirement in local codes and IEBC in most jurisdictions in order to determine the fire ratings of "archaic materials and assemblies." The definition of 'archaic' generally alludes to construction completed prior to 1950, and the performance of these building elements is defined according to hours of fire resistance (for walls and shaft enclosures, for example) and by measures such flame spread, smoke production, and degree of combustibility. Since documentation of fire performance is not readily available for many assemblies, a mix of engineering judgment, testing, and remediation may be needed to resolve the concerns of building officials.
Case studies of adaptive reuse
The addition of new fixtures and modern amenities to existing buildings is common in adaptive reuse projects. A number of valuable case studies show how building owners and design teams can rise to the challenges of these projects and not only meet the minimum codes, but also exceed the market's offerings in unique ways to create landmarks in their communities.
One example is the conversion of an 1884 building: the first U.S. hospital dedicated to the then-emergent field of cancer treatment, located at 455 Central Park West in New York City and is distinguished by majestic turrets and a chapel. This project is the winner of several awards, including the 2005 Lucy G. Moses Preservation Award from the New York Landmarks Conservancy, the Best of 2004 Annual Award, and the Gold Award for Engineering Excellence from the American Consulting Engineers Council (ACEC). This 100-unit luxury condominium complex combines the building, designed by Charles Coolidge Haight and listed on the National Register of Historic Places, with a newly added, 27-story residential tower overlooking the park.
The original building was converted to a nursing home in 1956 and eventually vacated in the early 1970s. Over time, the once-majestic structure fell into an advanced state of decay: stonework was displaced or eroded and its distinctive wood and slate roof became unsalvageable. Most of the windows and trim were missing and inside the structure, all the original finishes and most of the floor had been lost or damaged. In 2001—after years of design study, public approvals, and construction bidding—a comprehensive restoration of the exterior and gut renovation of the interior commenced. This included a full replacement of the roof.
As with many historic adaptive reuse projects, careful research and forensic analysis were required to determine the safety and suitability of various archaic material assemblies. Months of meticulous surveying led to the cataloguing and storage of many architectural features to be reinstalled or replicated as part of the project. A detailed evaluation of window materials and alternatives that was undertaken for the city's Landmarks Preservation Commission (LPC) led to solutions for combining historic fabric with lasting, attractive replacements. Within the existing shell, the project team inserted an entirely new concrete structure, and new residential layouts take advantage of the landmark's unique original geometries. The richly proportioned spaces found within the former hospital facilitated the creation of luxurious and highly marketable apartments, with interiors restored to the gracious opulence of the turn of the century.
455 Central Park West goes far beyond a conventional restoration. It took almost 25 years to be realized and demonstrates how extremely challenging an adaptive reuse project can be while still resulting in an unforgettable place with some of the most valuable residences in a major metropolitan area. In this way, adaptive reuse proves its worth, not only serving to restore significant historic places to their previous splendor, but also acting as a catalyst for the revitalization of surrounding neighborhoods and cities.