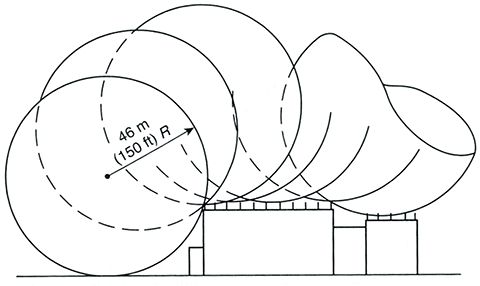 Air terminals
Air terminals are located at the highest points on a structure and at spacings necessary to provide protection for the entire building. For example (NFPA), requires air terminals at regular intervals of no more than 6 m (20 ft) on center (o.c.) along a roof ridge and around the roof perimeter, and within 0.6 m (2 ft) of outside corners. An architect may want to require closer spacings, however, to align with architectural features or the modular spacing of elements on the exterior wall.
To minimize visibility from the ground, the air terminals can be mounted on the backside of parapets. While of less concern from a visual standpoint, air terminals are also required within the field of a large roof and on rooftop equipment; their location will be determined by using 'rolling sphere' calculations. See Figure 1 for more about 'rolling sphere' calculations.
The simplest air terminals are metal rods. An air terminal can be as narrow as 9.5 mm (3⁄8 in.) in diameter and extend as little as 255 mm (10 in.) above the element on which it is mounted. Project conditions, however, may dictate larger and longer rods to provide sufficient conductivity and coverage. While tapered rods may be preferred to match historic styles, blunt-tip rods perform as well as pointed ones and offer greater safety to personnel that might fall onto them. Additional safety can be had by mounting air terminals on springs; spring-mounting also reduces damage that can be caused by roof-mounted window-washing equipment.
Creative expression can be given to air terminals. Decorative finials in a variety of historical styles are available. Additionally customized air terminals can be built into decorative elements, disguised as pennants, crowns, or spires, or treated like classical acroteria. For example, a residence overlooking Lake Sunapee, New Hampshire, has a deck that features air terminals integrated into lanterns—the look replicates the lighthouses that formerly guided ferries on the lake.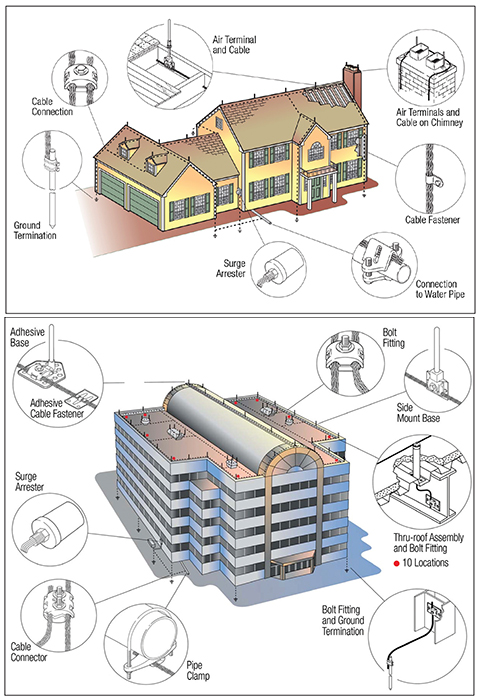 At the other end of the conspicuity spectrum, air terminals can be concealed or eliminated altogether. Handrails, snow rails, equipment screens, shade canopies, and other building elements can do double duty as air terminals when fabricated from 4.5-mm (3⁄16-in.) thick metal and installed with electrical continuity. Aire, a residential tower in New York City, for example, is in a high rent district near Lincoln Center. Designed by Handel Architects, its posh accoutrements include a fourth floor terrace surrounded by low walls topped with a stone coping. A nearly invisible metal plate is embedded in the stone and made electrically continuous to eliminate the need for air terminals. The same purpose is served at the building's roof where parapet copings that are neatly tailored from aluminum plate.
Similar 3⁄16-in. thick metal copings will also be used several blocks away at the 220 Central Park South building designed by Robert A.M. Stern. Zoning limits the building's height to 290 m (950 ft) to minimize shading of Central Park, and intense political pressure has prevented issuance of a variance—even for slender air terminals that will not be visible from ground level.
Special air terminals such as these might be specified in other sections, including work in Divisions 05 (Metal Fabrications), 07 (Flashings and Roof Specialties), or even 12 (Sculpture). Details and specifications must be carefully coordinated to ensure work is fully described without duplicating requirements.
These authors caution against the use of so-called 'early streamer emissions,' 'dissipation array,' and 'charge transfer' air terminal devices. Claims these devices 'attract' or 'repel' lightning to reduce the quantity of air terminals needed to protect a building have been debunked by NFPA, court rulings, and international studies.