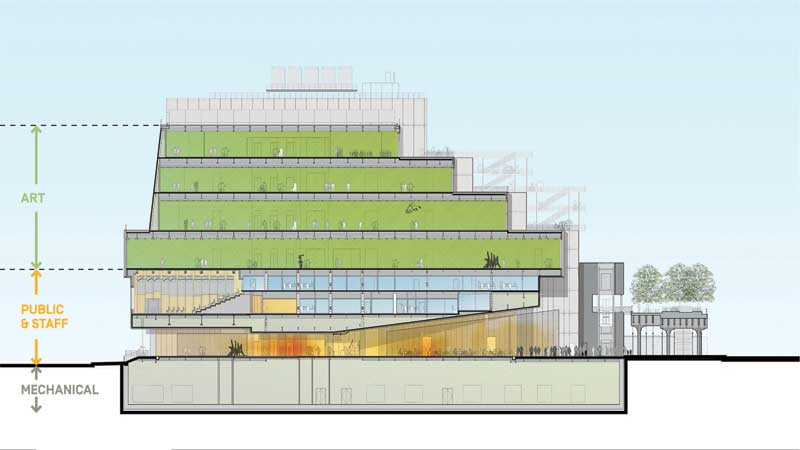 Standard operating procedures
An essential part of the museum's flood protection program is the proper and timely implementation of actions and procedures before, during, and after a storm surge or other flooding event. To ensure correct procedures are followed by Whitney staff, a standard operating procedures manual was created, containing checklists, flow charts, drawings, and manuals. Key to this document are a Team Organization/Responsibilities chart showing team roles and reporting structure, and General Alert Flow Chart by phase, tracking a storm's path and intensity paired with actions and evacuations based on the likelihood of impact and severity of the storm.
Taken together, this five-part approach of good planning combined with fixed, deployable, technical, and operational flood protection measures allows the building design to take full advantage of the unique characteristics of its site while offering a complete system of resiliency to resist future storm surges, as well as protect the staff and collections from severe weather events. It demonstrates how a project with ambitious design goals can also be responsive to a changing climate and associated risks in ways that are invisible to the public, resulting in award-winning architecture.
Scott Newman, FAIA, leads the cultural practice at Cooper Robertson. He has nearly 40 years of experience in the planning and design of complex museums, and was partner-in-charge of the new Whitney Museum of American Art. Newman can be reached at snewman@cooperrobertson.com.