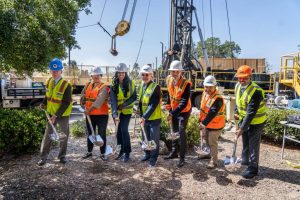 Southern California's Water Replenishment District (WRD) recently started construction on the Inland Injection Well project, at the Leo J. Vander Lans Advanced Water Treatment Facility in Long Beach.
The new infrastructure project aims to alleviate the state's chronic drought issues by yielding 7,570,823 L (2,000,000 gal) of recycled water, to be injected into groundwater aquifers for storage and future use.
By recycling locally available water sources and storing them underground, the project will act as a buffer during droughts and contribute to regional water security. It will also reduce the strain on imported water supplies.
"Our job of protecting and replenishing our local groundwater resources is more important now than ever," says WRD board president John D. S. Allen. "The Inland Injection Well project will contribute to a droughtproof water supply for the 4 million residents in the WRD service area."
Construction is expected to be completed this summer.