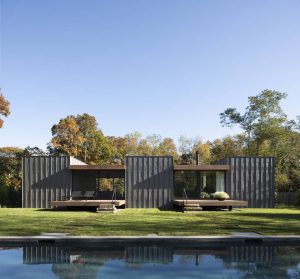 A private residence in East Hampton, New York, won two first-place awards for the residential walls and interiors categories in Aluminum Trim and Shapes (ATAS) International's 2020 project of the year competition.
Aaron Zalneraitis, the architect for this project, who is also the homeowner, selected standing seam shingles for the exterior of this Long Island home.
This "milestone" house was named for the granite milestone which Zalneraitis discovered when clearing the lot for his new home. It was one in a series of historic markers along a road connecting two villages.
Standing seam shingles feature a four-way interlock to ensure weather-tightness. These panels are installed with concealed fasteners over a solid substrate. Transverse seams are staggered to provide clean lines running up the wall.
Traditionally a roof panel, ATAS' standing seam shingles provide a vertical shingle look for wall applications. The panels for this project were manufactured in slate gray .032 aluminum. Two panel sizes are offered: 406 x 914 mm (16 x 36 in.) or 406 x 1524 mm (16 x 60 in.), which allows them to be easily handled at the job site.
The panel depth is 25 mm (1 in.), and the shingles have a smooth texture. They are available in 454-g (16-oz) copper in addition to .032 aluminum in over 40 colors, including wood grain print coats, matte, and weathered steel finishes.
Corrosion-resistant aluminum panels were chosen for this project due to its weather resistance and durability for this home that is located across the street from a harbor susceptible to flooding in strong storms.
The contractor, TRM Enterprises of Bridgehampton, New York, installed a total of 260 m2 (2800 sf) of the 406 x 1524 mm standing seam shingles on the exterior and interior of this home. The metal panels were purchased through New Castle Building Products of Eastport, New York.
Along with wood flooring and ceilings, the metal walls help achieve a welcoming atmosphere to the living space. The glazing and screening between the three solid sections contribute to connect it to the outdoors.