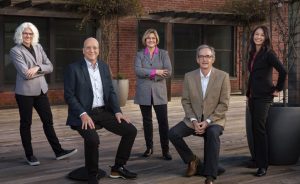 LRS Architects, based in Portland, Oregon, has become the largest women-owned architecture and interior design firm in the Pacific Northwest with the addition of Janice Sanada and Michelle Startt to the majority ownership group.
Sanada and Startt join current majority owners Trish Nixon, Dan Purgiel, and Paul Boundy.
"We look forward to continue building upon the foundation of strong design, client service, and our culture of respect, inclusivity and transparency, while growing more flexible as we plan for the future," said Sanada.
"When I started at LRS Architects over 20 years ago, the industry was very male-dominated. I was one of only four women on the architectural staff," said Startt. "Since then, the landscape has changed dramatically, and I am proud to say LRS Architects is now almost 50 percent female."
Founded in 1976 by Bill Ruff and Steve Lee, LRS was established on client-centered solutions and a commitment to providing excellent service. Today, the designs projects that positively shape human experience through the physical environment and address the needs of everyday life, the firm said in a press release.
The firm is recognized for marrying design with an efficient, collaborative process. It has work across a range of project types, including: senior living and multi-family housing, commercial office and workplace, retail and auto, civic buildings, and industrial projects. Recent Portland area senior housing and multi-family work includes the 256-unit, resort-style Touchmark in the West Hills senior living development, and Grant Park Village II, a multi-family development that helps transform a former industrial site into a vibrant community.
Commercial and retail projects include: the $15 million, mountaintop Sahale Lodge at Mt. Hood, Oregon; the rebranding and expansion of over a dozen New Seasons grocery stores at various locations in Oregon; as well as more than 80 auto dealership projects located throughout Oregon and Washington. With dozens of commercial buildings and over 1.4 m2 (15 million sf) of workplace tenant improvements completed within the past several years, commercial and workplace projects constitute a significant portion of the firm's work.