Major addition to Bronx public school opens its doors
by sadia_badhon | February 17, 2021 9:44 pm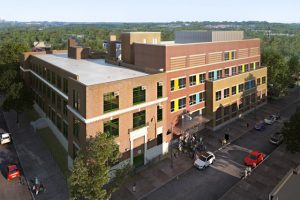 In the Bronx, New York City, a major addition to a public school serving a growing K-8 student population has opened its doors, with a thoughtful and inspiring design by RKTB Architects[2].
The student body for this facility in the Woodlawn neighborhood had outgrown the capacity of the existing school building some years past and is still expanding. Working in partnership with the New York City School Construction Authority (SCA) as both client and construction manager, RKTB delivered an addition that more than doubles the school's size and floor area, and has added modern features and amenities such as a combined cafeteria and auditorium space—a rarity for New York's public schools.
P.S. 19X, as the addition is known, also includes new administrative offices, replacing those in the existing building. RKTB's work included renovation of the older school building's interior, where administrative and assembly spaces have been replaced with new, modern classrooms. Utilizing state-of-the-art digital design and construction technology, the architects were able to seamlessly join the old and new buildings while managing challenges related to integrating new mechanical systems and infrastructure.
Now a source for neighborhood pride, the school enjoys a new entrance with a soaring, airy lobby just inside. Throughout the interior, tiles on the walls are etched with inspiring quotes from notable historic figures interred at Woodlawn Cemetery, including Irving Berlin, Miles Davis, and Duke Ellington, among others.
"P.S. 19X represents not only an increase in size, but also a vast improvement in quality, accessibility, and safety," said Albert Aronov, AIA, principal with RKTB. "The new assembly space provides a meeting room that community groups will be able to utilize after school hours. The expanded, reimagined P.S. 19 will serve as a resource for Woodlawn and Bronx residents for generations."
Endnotes:
[Image]: https://www.constructionspecifier.com/wp-content/uploads/2021/02/RKTB.jpg
RKTB Architects: http://rktb.com/
Source URL: https://www.constructionspecifier.com/major-addition-to-bronx-public-school-opens-its-doors/
---