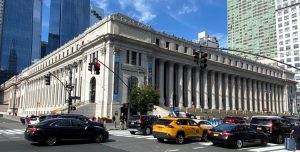 The James A. Farley Building, designed by McKim, Mead & White in 1913 for the United States Postal Service (USPS), was newly renovated and now serves as a part of the region's rail system, a home for the postal service, Amtrak, and future NYC home for Facebook.
The most important architectural challenge of this project was to design contemporary, efficient, and technically sound space, critical to the current postal service operations while also celebrating the historic character of the building.
This postal service project included a consolidation and reconfiguration of the postal occupancy within the building. New spaces include a new administrative office and conference space for the New York USPS District, headquarters for the United States Postal Inspectors and the postal police, a new postal employee entrance lobby, a business caller mail lobby, and a new passport acceptance center.
The project also included an update of the 8th Avenue postal retail operation, USPS loading docks and platforms, and a brand-new space for the Farley carrier operation. The USPS occupancy is approximately 25,734 m2 (277,000 sf) in area and is broadcast over three floors in the building over the length of an entire city block, from 8th to 9th Avenue, which is around 244 m (800 ft).