FAILURES
Deborah Slaton & David S. Patterson, AIA
Once an exterior wall assembly mockup has passed performance testing—usually not without some adjustments—and the products (e.g. windows, curtain walls, and cladding panels) are released for fabrication and installation, the design/construction team faces a new challenge: ensuring modifications or improvements identified during this process are integrated into fabrication.
On several projects involving new curtain wall systems, field testing for quality control during installation revealed widespread water leakage in the wall assembly. The source of the leakage could not be linked to the installation of the assembly but was instead attributed to deficiencies in offsite fabrication.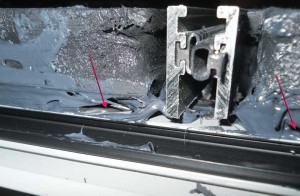 Quality control efforts for exterior wall assemblies are often specified for implementation after the units are installed to make certain the assembly meets the specified performance criteria. However, to ensure the installed units are problem-free, the same level of quality control as implemented during the mockup process is needed as part of fabrication. This can be achieved at the facility where the units are manufactured by establishing quality control protocols throughout the fabrication process. Perhaps even more importantly, it can be realized by educating the assembly or workers as to the critical role they play in achieving the goal of a successful installation.
Those involved in fabrication of wall assemblies should understand how the assembly works and where critical components or procedures lie. Workers with a sense of ownership and pride in their efforts are more likely to work together, checking one another's work and requesting it be reviewed for quality control. Simple changes in approach during fabrication of exterior wall components or assemblies can turn attitudes and product outcomes around. Wherever possible, it is beneficial to the project if the design/construction team is actively involved in ensuring such quality control procedures are in place at the fabrication facility as well as onsite.
The architect I. M. Pei understood the need to engage workers in quality control on a personal level when he addressed the contractor workforce during construction of the East Wing of the National Gallery in Washington, D.C. As a result of his comments, the workers were instilled with a sense of the importance of their efforts and pride in their work on the project. The same is no less true on smaller projects.
Deborah Slaton is an architectural conservator and principal with Wiss, Janney, Elstner Associates (WJE) in Northbrook, Illinois, specializing in historic preservation and materials conservation. She can be reached at dslaton@wje.com.
David S. Patterson, AIA, is an architect and senior principal with the Princeton, New Jersey, office of WJE, specializing in investigation and repair of the building envelope. He can be contacted at dpatterson@wje.com.