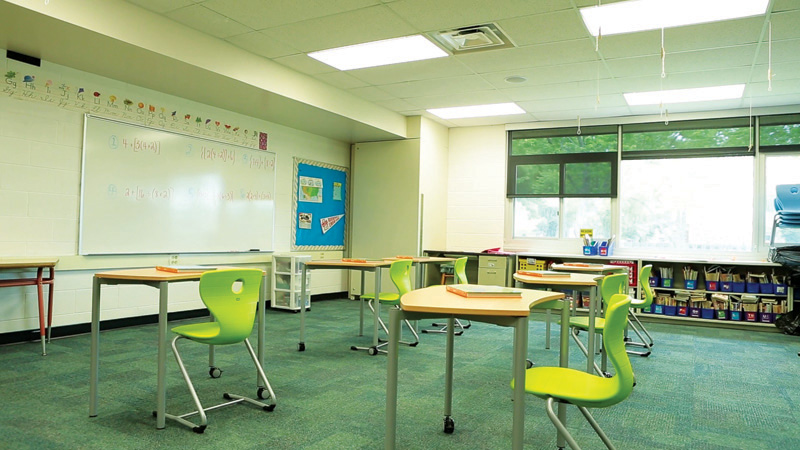 by Paul Selking
As K−12 school budgets dwindle and energy costs rise, fewer resources are dedicated to school operations and maintenance. As a result, the health and performance of these buildings (and the students and staff inside) suffer. With the cost to maintain and improve educational facilities increasing, schools need to invest in retrofits and ongoing maintenance to assert control over their utility costs.
According to the U.S. Environmental Protection Agency (EPA), the nation's 17,450 K−12 school districts spend more than $8 billion annually on energy—more than is spent on textbooks and computers combined. An estimated $2 billion of that total could be saved by improving energy efficiency in schools, equivalent to the cost of nearly 40 million new textbooks. Complicating these calculations is the aging of America's public schools, which are, on average, 44 years old, according to the National Center for Education Statistics (NCES). The 'functional age' of public schools, when renovations are factored in, is 19 years.
The good news is energy is one of the few expenses that can be decreased without negatively affecting classroom instruction. Thousands of school boards have figured out ways to invest in energy efficiency and renewable energy improvements, demonstrating smart energy choices can have lasting benefits for their students, their communities, and the environment. Along with achieving significant energy cost savings, investing in energy efficiency can produce environmental, economic, and educational benefits.
Improving schools' energy efficiency and outcomes
EPA has found increasing energy efficiency in K−12 school buildings can have the indirect benefit of bettering acoustic comfort, enabling effective communication by minimizing audible disturbance from outside and inside, and improving student performance. Additionally, the money saved from lower energy bills can help schools pay for building upgrades that enhance the health and quality of students' learning environments—examples include skylights for daylighting, retrofitted shading devices, energy-efficient windows, and better insulation. School districts throughout the country are realizing energy improvements have the potential to save the nation's schools $1.5 billion each year and, at the same time, create better learning environments.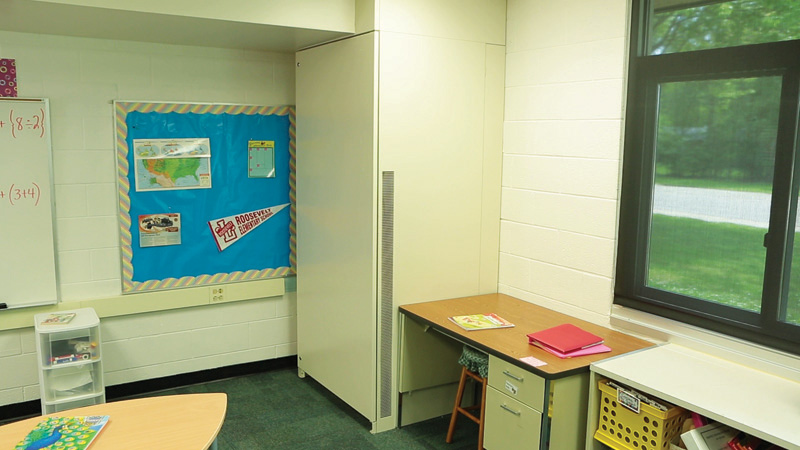 The physical condition of school facilities affects the performance, comfort, and stress levels of students and teachers alike. A wide body of research illuminates the relationships between the physical and human performance of schools, including the links between:
indoor air quality (IAQ) and rates of absenteeism and asthma;
lighting quality and student concentration;
classroom acoustics and student attention;
access to some form of physical activity and healthy cognitive development;
design and condition of facilities and academic achievement; and
quality of school buildings and long-term staff and teacher retention.
Schools achieving higher building energy ratings can have a positive impact on student test scores as well. By installing more energy-efficient equipment, such as an upgraded HVAC system, school administrators are enhancing student comfort, health, and attention span, which can ultimately give education outcomes a lift.
The U.S. Government Accountability Office (GAO) estimates more than 15,000 schools nationwide report suffering from poor indoor air quality. Further, as mentioned, EPA says these schools experience increased absenteeism, decreased student concentration and productivity, and lower student test scores. Poor IAQ is also a known trigger of asthma—a condition that accounts for 14 million missed school days each year, according to the Asthma and Allergy Foundation of America (AAFA). (For more, see Rachel Belew's article, "A Breath of Fresh Air," in the September/October 2011 issue of Principal.)
Schools are also faced with the issue of IAQ standards that require fresh air to be introduced into classrooms at a substantial rate. The national consensus standard for outside air ventilation is American Society of Heating, Refrigerating, and Air-conditioning Engineers (ASHRAE) 62.1-2010, Ventilation for Acceptable Indoor Air Quality, and its published Addenda. This standard is often incorporated into state and local building codes and specifies the amounts of outside air that must be provided by natural or mechanical ventilation systems to various areas of the school, including classrooms, gymnasiums, kitchens, and other special use areas. High-quality HVAC systems must meet the stringent requirements of modern education environments.