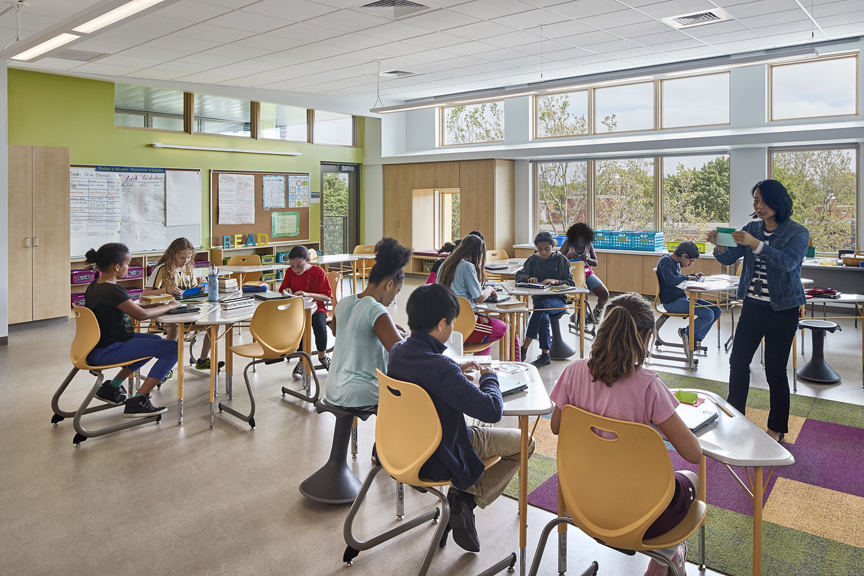 An educational facility in Cambridge, Massachusetts, has achieved Leadership in Energy and Environmental Design (LEED) Platinum certification under the U.S. Green Building Council's (USGBC's) LEED for Schools–New Construction system.
Designed by global design firm Perkins Eastman, the Dr. Martin Luther King (MLK) Jr. School and Putnam Avenue Upper School Project achieved 89 points out of a 110 base points possible for LEED.
"This result is a testament to the truly collaborative and integrated design and construction process on the part of all of the project's stakeholders—from the Cambridge Public Schools, the City of Cambridge, the schools' administrators, teachers, and students to the entire Cambridge community," said Sean O'Donnell, principal-in-charge of the project.
The 15,794-m2 (170,000-sf) complex, which opened in December 2015, was designed to use 60 percent less energy when compared to other educational buildings in New England.
Some of the complex's sustainable design attributes include:
65 geothermal wells, supporting the heating/cooling system;
1615 photovoltaic (PV) panels, which create a 796 kW rooftop array;
two 10,000-gallon cisterns for stormwater reclamation; and
use of no- or low-volatile organic compound (VOC) building materials.
"We are extremely proud to have built a high-quality sustainable facility that serves the children of Cambridge and enhances the neighborhood," said Louis A. DePasquale, Cambridge city manager.
To read more about the city's green building projects, click here.