Massachusetts university earns LEED Gold
March 4, 2019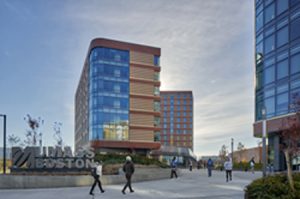 The University of Massachusetts Boston[2] (UMB) Dining and Residence Hall project has achieved Leadership in Energy and Environmental Design[3] (LEED) Gold certification from the U.S. Green Building Council[4] (USGBC).
The project earned Gold certification for implementing practical and measurable strategies and solutions aimed at achieving high-performance in sustainable site development, water savings, energy efficiency, materials selection, and indoor environmental quality.
Some of the sustainable strategies that helped the project achieve this level include:
the location of the project site on land that is considered a brownfield redevelopment;
water savings of 34 percent achieved by using low-flow showers, faucets, toilets, and urinals;
energy cost-savings of 26.8 percent through the implementation of a high-performance building envelope, energy recovery units, hot water efficiency, and 100 percent LEED lighting; and
selection of cool roofing and hardscape materials to reduce the heat island effect.
"As the first residence hall on our campus, this development created the opportunity for our students to have a traditional residential college experience," said Katherine Newman, interim chancellor at UMB. "We are especially pleased that it has achieved LEED Gold certification as it aptly reflects our commitment to, and our students' interest in, sustainable development."
Endnotes:
[Image]: https://www.constructionspecifier.com/wp-content/uploads/2019/03/Opener.jpg
University of Massachusetts Boston: https://www.umb.edu/
Leadership in Energy and Environmental Design: https://new.usgbc.org/leed
U.S. Green Building Council: https://new.usgbc.org/leed
Source URL: https://www.constructionspecifier.com/massachusetts-university-earns-leed-gold/
---